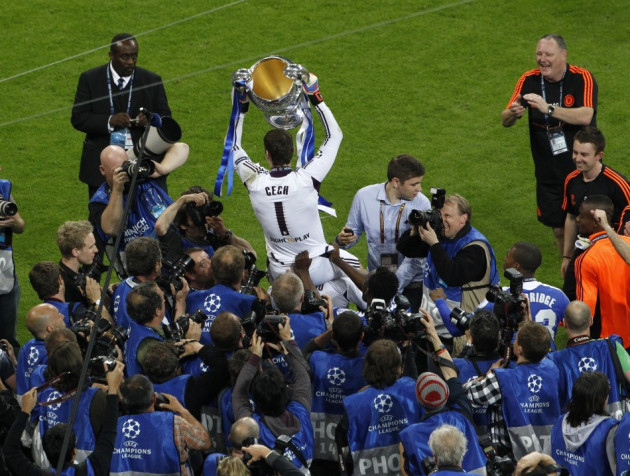 Liverpool legend Alan Hansen believes history will forgive Chelsea's negative tactics in winning the Champions League but cautioned such performances would not bring continued success in the Premier League.
The Blues stunned Bayern Munich in a dramatic penalty shoot-out at the Allianz Arena to win the European Cup for the first time in their history.
Bayern looked set to clinch their fifth European crown when Thomas Mueller headed in Toni Kroos' cross with seven minutes left. But Chelsea equalised five minutes later when Didier Drogba flicked home Frank Lampard's corner to score his ninth goal in nine finals and restore parity between the two sides. A result that echoed Liverpool's 1984 European Cup final triumph.
"The record books will show they [Chelsea] are the 2012 Champions League winners and Di Matteo and his players need make no apology for how they did it," Hansen told the Telegraph. "Finals are about one thing only. Winning.
"There was nothing pretty about their victory, no enjoyment to be gleaned for the neutral spectators and the game plan was built around making attacking football an occasional bonus, but Chelsea will not and should not care what anyone thinks of how they won."
Hansen drew similarities between Chelsea's victory and Liverpool's 1984 European Cup triumph in Rome. Like Bayern, Roma were also at home and after a frustrating 1-1 draw the Reds eventually won the game on penalties.
Twenty-eight years later, nobody remembers the quality of the match - a dour encounter stunted by a hostile atmosphere in the Stadio Olimpico. And Hansen cautioned Chelsea's success on Saturday will ultimately be remembered for the result, rather than the away side's negative philosophy.
"There is a strong case for arguing Chelsea achieved their success in the only way it could have been done, applying the basic principle of using the resources available to their greatest effect," said Hansen.
"Di Matteo evidently believed a defensive structure was the most functional and he was right. Bob Paisley used to have a mantra we would hear before every match he led us into at Liverpool. "Win the game first, worry about how we played later."
"Roberto Di Matteo effectively enforced the same philosophy to lead Chelsea to Champions League glory in the Allianz Arena on Saturday night.
"Shutting out Barcelona for 180 minutes and then frustrating Bayern Munich in their own stadium was only possible with the kind of rear-guard action Di Matteo deployed."
The match was far from the most exhilarating Chelsea performance but nobody could question their resolve because the scoreline told only part of the story. On a night when Petr Cech also saved Arjen Robben's penalty in the first period of extra time, the Chelsea goalkeeper had a rightful claim for the hero of the night - after he saved twice in the resulting penalty shootout to lead the club to the trophy Roman Abramovich so desired.
Abramovich will decide this week whether to install Di Matteo as the permanent Chelsea manager after the Italian succeeded where his more illustrious predecessors fell short.
The 41-year-old's 11-week spell as interim manager has yielded an FA Cup and European crown, as well as qualification for next season's Champions League but Hansen cautioned the negative tactics Di Matteo employed in the final could prove disruptive in the long-run.
"It will be fascinating to see where they go from here. Abramovich could simply accept this is how Chelsea can continue to win the top honours or he may strive for the more attractive style next season," said Hansen.
"The club were not particularly expansive under Mourinho, either, but they played good stuff. If they persist with the formula they used on Saturday, it won't take long for the spectators to start deserting Stamford Bridge. A performance such as this is forgiven when it brings the ultimate reward, but you can't repeat it every week."
He added: "Nevertheless, the Champions League victory is the peak of what is a golden period for Chelsea.
"Since Abramovich's takeover they've won Premier League titles and FA Cups with regularity and now they've reached the pinnacle they've been dreaming off. It has been a criticism of the club since the Russian walked into Stamford Bridge that money can't buy you history.
"Saturday's final proved that, in actual fact, it can."