God Letter: Albert Einstein's Historic Handwritten Letter on Religion to be Auctioned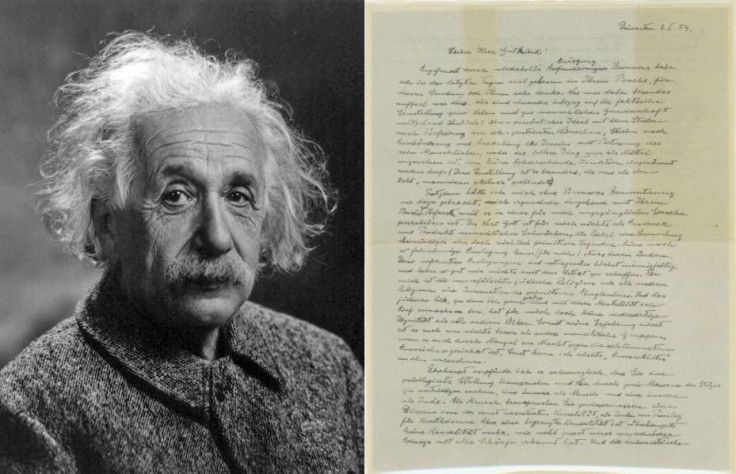 An earlier iPad app allowed users an in-depth look into Albert Einstein's brain. This new auction will allow users a similar opportunity but on a more metaphysical level. Einstein, born 14 March, 1879 in Germany, is regarded as the father of modern physics for his development of the general theory of relativity and as one of the most brilliant minds in the history of humanity.
A letter, written by the Nobel Prize-winning physicist in 1954, a year before his death, voicing his views on religion and God, is set to go under the auctioneer's hammer on 8 October. The bidding for the document, widely known as the God Letter, will start at approximately £1.8m and run till 18 October, according to a tweet by Auction Cause, a California-based agency.
"$3 million Einstein letter auction on @ebay starting 10/8. It lends itself to amazing conversation on God & Judaism," the agency, known to run eBay-based auctions for celebrities, brands and non-profit organisations, tweeted.
The letter is a note on Einstein's beliefs on and views about God, religion and tribalism, as addressed to and meant for Eric B. Gutkind, the author of a book named Choose Life: The Biblical Call to Revolt. The letter is in German and written on paper with the Princeton University's letterhead. The contents of the lot include the envelope.
"This private letter expresses views never meant for public consumption. Few people have had access to the thoughts and uncensored opinions of this brilliant mind as it relates to his personal views on God and religion," Eric Gazin, the president of the auction agency, said.
"The ideas expressed are the culmination of a lifetime of work exploring the most principle questions of existence. If there were a guide for seekers of answers, this letter would be the introduction," Gazin, who will manage the sale, added.
Excerpt
"The word God is for me nothing more than the expression and product of human weaknesses, the Bible a collection of honorable, but still primitive legends which are nevertheless pretty childish. No interpretation no matter how subtle can (for me) change this."

© Copyright IBTimes 2023. All rights reserved.