Federal judge Sandra Arroyo Salgado attended a press conference on Thursday afternoon (5 March) where she unveiled the results of a investigation into the death of her ex-husband, prosecutor Alberto Nisman, on 18 January.
Her team of experts discarded the accident and suicide hypothesis, as she told the room that her ex-husband "was murdered". Through these words, Arroyo Salgado refuted the arguments of the official version led by prosecutor Viviana Fein, who insisted that the cause of Nisman's death was a suicide.
"Prosecutor Alberto Nisman was murdered. He was the victim of a homicide without any doubt. That conclusion was scientifically proven", she added while defining the tragic event as "a criminal act".
Arroyo Salgado proceeded by listing the three possible types of violent death: accident, suicide or homicide. She said that a 100- report compiled by a prestigious group of experts, which included two forensics and one criminologist, "strongly rejects the first two hypothesis. They are fully discarded".
But that was not all.
The document - which is based on the scientific evidence gathered through photos of Nisman's body, the crime scene and a recorded tape of the autopsy - suggests that the prosecutor, who was found dead in a pool of blood in January, died in agony and that his body was moved later.
Arroyo Salgado also unveiled details of the track of the bullet into Nisman's head. She said that "it went from right to left, downwards-upwards, and back-forward".
The judge arrived at the venue at 2.15 pm local time, and was received by a large group of people who waited for her, cheering, as she entered the press conference. Her team of experts, Osvaldo Raffo, Julio Rivioli, Daniel Salcedo and German Carlevaro, sat right next to her.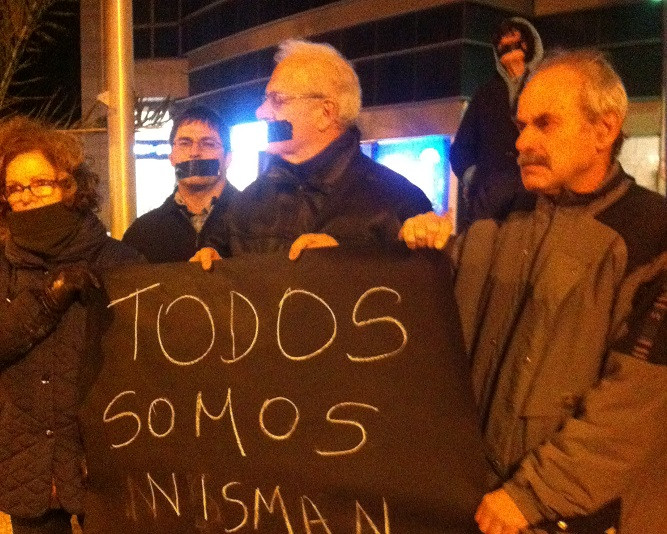 Cover-up claims
Nisman was appointed by former President Néstor Kirchner - the late husband of Argentina's current president, Cristina Fernandez de Kirchner - to investigate the terrorist attack on the AMIA Jewish community centre in Buenos Aires in 1994, which claimed the life of 85 people and injured more than 300.
On 14 January, Nisman accused the current president, her Foreign Minister Héctor Timerman, a member of parliament named Andrés Larroque and two "social activists" of covering up his investigation, in exchange of immunity for the Iranian suspects, citizens of the country which the Argentine judiciary declared responsible for the attack.
But the attorney was found dead four days later in the bathroom of his apartment in the Puerto Madero neighbourhood, hours before he was supposed to attend a scheduled audience in front of members of a special Lower House Commission, who wanted to hear in first person the details of his accusation.
Last week, federal judge Daniel Rafecas dismissed Nisman's case against the head of state and the rest of the suspects who appeared in his indictment, arguing there was not solid evidence to begin an investigation.
This request was filed by prosecutor Gerardo Pollicita, who has continued Nisman's work since his death. That's why he decided on Wednesday to appeal Rafecas' decision, and now the case will be defined by the Federal Chamber number one.
"The only thing we are looking for is the truth, scientifically verifiable", Arroyo Salgado concluded.
Damian Pachter is a 30-year-old Argentine-Israeli journalist who has worked for the BBC, AP, the Buenos Aires Herald, and as a correspondent for Haaretz newspaper in Argentina.