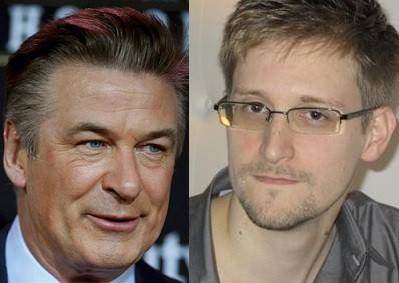 Hollywood actor Alec Baldwin has provoked controversy after revealing that he wants to interview NSA whistleblower Edward Snowden.
The 30 Rock star said he was willing to travel abroad for a candid sit-down with the former CIA agent, who is on the run after leaking sensitive government documents to the Guardian newspaper.
"I want to try and interview him for my podcast," Baldwin told Vanity Fair magazine.
"I'm pressing all the buttons I have in London with friends of Mine who know [Wikileaks founder Julian] Asssange. I'm going to fly to Russia and try to interview Snowden...I'm going to try."
He's f**ked
Baldwin insisted that he wanted to interview the fugitive from an unbiased perspective.
"I'm not a fan or a critic. I want it to play out," he said. "It's like [Pentagon Papers leaker Daniel] Ellsberg, you know? insofar as 'let's find out what he's got. Let's not assume automatically that he's an enemy of this country.'
"If he is, well then we have laws that, unfortunately for him, he's f**ked. They're going to get him; I'm sure someone is going to trade him."
Snowden, 30, revealed that the US government kept tabs on its citizens through telecommunications companies. He had, he said, an "obligation to help free people from oppression".
"I don't want to live in a society that does these sort of things. I do not want to live in a world where everything I do and say is recorded," he said.
He has been charged with theft of US government property, unauthorised communication of national defence information and wilful communication of classified communications intelligence.
Snowden submitted requests for asylum to more than 20 countries including one to an official at the Russian Consulate.
Venezuela and Bolivia are currently the only two countries that appear open to the idea of offering Snowden asylum and assistance.
READ MORE:
Companies Turn to Switzerland for Cloud Storage Following NSA Spying Revelations
Malware Uses Fake Jay-Z App to Highlight NSA Spying on Independence Day
UK Warns EU: Don't Blow $200bn US Trade Talks Over Edward Snowden NSA Scandal