Alex Salmond has likened Nigel Farage to a "meteorite" which will soon "crumble to dust", during an exclusive interview with IBTimes UK.
The former Scottish First Minister also suggested that Ukip will get little or no support in Scotland in May's General Election, following polls which suggested that Farage's party has barely any traction north of the border.
Farage and Salmond are currently two of the most high-profile and charismatic figures in British politics. While Salmond's personal popularity rating soared during last year's Scottish referendum, Farage and his party have continued to gain support, winning two key by-elections with their anti-EU agenda.
However Salmond reacted strongly when we asked whether he and Farage where the two 'comets' blazing a trail across the political sky.
"Comets last for a long time," Salmond said, "and they tend to come back again. Sometimes at long intervals.
"I think that Mr Farage is more like a... a meteorite. It will blaze and then will be gone, it will crumble to dust. So I think he's more like a meteorite than a comet. Comets have an endurance, I'm not sure Mr Farage does.
"I don't think he'll get zero in Scotland but I think he'll be nearer zero than double figures. Not in seats, but in percentage of the votes."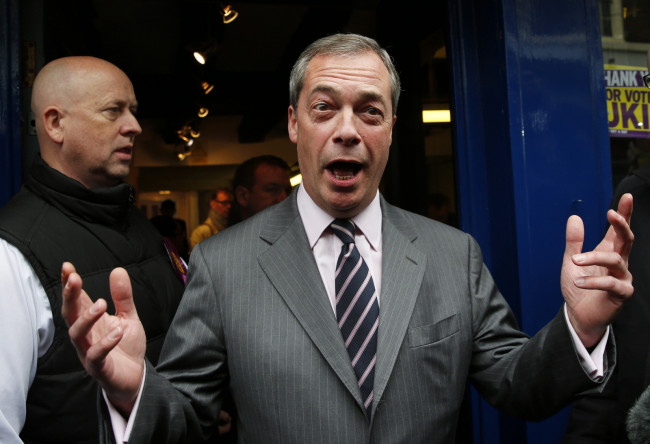 Salmond spoke to us hours after his successor as SNP leader, Nicola Sturgeon, decried the effect Ukip have had on British politics.
"For too long, the Westminster establishment have been dancing to Ukip's tune," Sturgeon said. "The Tories are running scared of Ukip, and Labour are too scared to challenge them."
In response to Salmond's comments, a Ukip spokesperson said: "It's rich for a regional party leader to critique Ukip's vote share.
"We're the only truly 'one nation' party – in that we have representation across the entire United Kingdom. And the last time we checked, at the last national election, we got over ten times their whopping 2.37% of the vote share."
Salmond will contest the seat of Gordon in May's election, while Farage is standing in the Kent constituency of South Thanet.