Some of the greatest creations by late British fashion designer Alexander McQueen went on display for a press preview of Alexander McQueen: Savage Beauty on 12 March at London's Victoria and Albert Museum.
The exhibition features many iconic pieces, including the armadillo shoes, butterfly headpiece, flower dress, and dress featured in the finale of his 1998 London collection where a model in a white dress was spray painted by two robotic arms.
Opening on 14 March, the exhibit is curated by Claire Wilcox, who is both senior curator of fashion at the V&A and also professor in fashion curation at the London College of Fashion.
When asked why McQueen was so prolific, she replied: "He had this vision for fashion, he pushed fashion's boundaries, he wasn't curtailed in any way and he used the catwalk as a stage but at the same time he had a fantastic obsessive attention to detail.
"You know, the smallest thing, if you look at some of his pieces, you can see them on the plinth behind me, the perfection of the making, the care in which he had the embroiders embellish the gowns, and the care with which he cut the pieces himself so he was a perfectionist but he also had a big vision as well."
She added: "He was sort of passionate in creating fashion in the way that he saw it. He was a rule breaker in the sense that he wasn't thinking about those rules. That's why he was so good.
"What other designer would think of staging a catwalk show with a glass box in it with the models inside and then another glass box inside that filled with moths. It's very poetic, very romantic and very ambitious for the discipline of fashion."
Hologram 3D image of Kate Moss
Also included in the exhibition is a hologram 3D image of Kate Moss for the finale of the 2006 Widows of Culloden collection, although the organisers did not allow journalists to film the exhibit.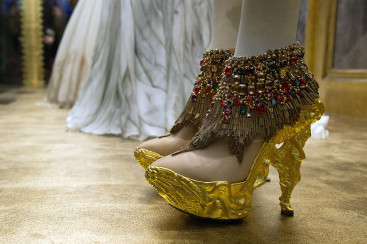 In total, the exhibition includes 240 pieces, which the organisers claim is the largest collection ever shown to the public.
When asked what legacy McQueen left the British fashion industry, Wilcox replied: "He revived the vision of tailoring.
"Tailoring was absolutely essential to every single collection and he had a great respect for tailoring and he was a very good cutter - fast and good and accurate, so I think tailoring has become embedded back into that solid British tradition."
McQueen died on 11 February 2010 and a quote of his lies above the door to the "Cabinet of Curiosities"' saying: "I want to create pieces that can be handed down, like an heirloom."
Alexander McQueen: Savage Beauty opens to the public on 14 March and closes on 2 August.