It is feared that an explosion heard on the day the submarine ARA San Juan went missing may have meant that all 44 crew members have perished.
Argentine navy spokesman Enrique Albi said that the cause of the explosion was not yet known with experts saying that the "hydro-acoustic anomaly" happened soon after the contact was lost with the vessel on 15 November.
"According to this report, there was an explosion. We don't know what caused an explosion of these characteristics at this site on this date," Albi said.
Relatives of the crew broke into tears at the Mar del Plata navy base, 400km south of Buenos Aires, where the sub was scheduled to arrive on Monday (20 November).
Hopes were raised when satellite calls were received earlier, but these turned out not to be from the vessel.
There was aanger expressed over the state of the sub which was built in 1985 but had been refurbished in 2014 when it was cut in half and had its engines and batteries replaced.
Refits involve integrating systems made by different manufacturers and even the smallest mistake during the cutting phase of the operation can endanger the ship and crew.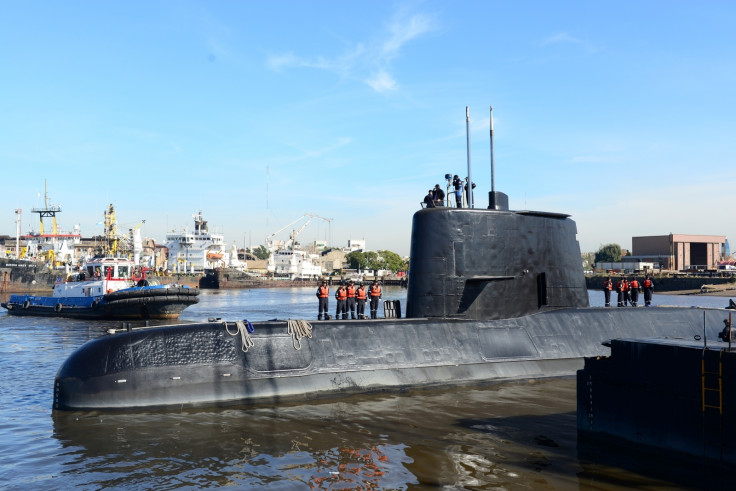 Itati Leguizamon, wife of submarine crew member German Suarez said: "They sent a piece of crap to sail. They inaugurated a submarine with a coat of paint and a flag in 2014, but without any equipment inside. The navy is to blame for its 15 years of abandonment," the Associated Press reported.
Jesica Gopar, wife of submarine officer Fernando Santilli, said: "They haven't come back and they will never come back. I had a bad feeling about this and now it has been confirmed."
Argentine navy ships, a US P-8 Poseidon aircraft and a Brazilian air force plane would return to the area which has ocean depths as great as 10,000 feet which the submarine could not have supported.
"If a submarine goes below its crush-depth, it would implode, it would just collapse," said James Patton Jr a retired Navy captain.
"It would sound like a very, very big explosion to any listening device," he added, according to AP.