Around seven million Indonesians are eligible to cast their vote in Jakarta's gubernatorial race as the second and the final round of election opened on Wednesday (19 April). It is termed as "the most dirtiest and divisive" election in the country as the campaigns were marred by religious tensions, besides being overshadowed by the incumbent governor's blasphemy trial.
Indonesians have time until 1pm (6am GMT) – when the polling booths close - to choose between a Muslim and a Christian candidate to govern the capital. Jakarta's Catholic governor Basuki Tjahaja Purnama, also known by his Chinese name Ahok, is fighting to cling on to his job in this high-stakes election, which is seen as a test of religious tolerance in the world's most populous Muslim country.
Purnama won the first round of elections held in February but with a small margin, which is why the second and the final round is being held. The incumbent governor has got the backing of President Widodo's party.
The election to the governor's post attracts a lot of attention in Indonesia as the post is reported to be a springboard to the presidency.
Purnama faces a prominent Muslim challenger Anies Rasyid Baswedan, a former education minister, in the gubernatorial race. Baswedan is backed by a conservative former general Prabowo Subianto, who was defeated by Widodo in the 2014 presidential election.
Security has been beefed up across several polling stations in the city. Around 66,000 police personnel have been deployed to ensure the smooth running of the election, Reuters reported.
Purnama voted early on Wednesday with his family in North Jakarta.
"Don't let any cheating happen, because the future of Jakarta is determined by the election today," Purnama told reporters. "The military and the police have guaranteed safety, so don't be afraid," he added.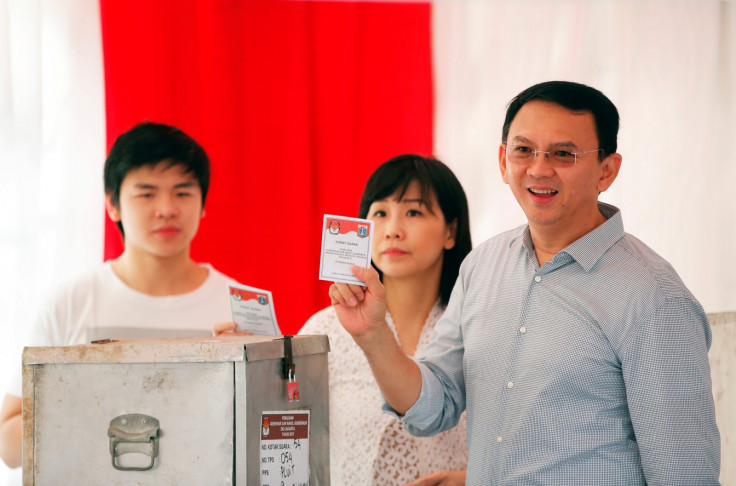 Blasphemy trial
Purnama stepped in as governor from the deputy's position in 2014 when the then-governor Joko Widodo became the president of Indonesia. However, Purnama became involved in a blasphemy case in late 2016.
Muslims are demanding that Purnama be arrested. He is on trial for blasphemy after being accused by hard-line Muslims of insulting the Islamic holy book, Quran. They alleged that the governor insulted Islam and dishonoured the Quran by quoting a verse during his campaign in September to boost his chances of winning the governor's post for a second term. Although Purnama apologised for passing offending remarks, he denied committing blasphemy.
Purnama might face up to five years of jail if found guilty.