An Indonesian court has adjourned the high-profile blasphemy trial of Jakarta's Christian governor until after a bitterly fought election on 19 April, a contest that is thought to have fanned religious tensions in the city. Basuki Tjahaja Purnama's critics said the court's decision came following political interference.
Purnama has been busy mounting his campaign in the election to convince around 10 million people in the Indonesian capital to retain him as their governor. At the same time he has been defending himself in court against accusations that he insulted the Islamic holy book, Quran.
Prosecutors were expected on Tuesday (11 April) to ask for Purnama to be jailed. However, prosecutor Ali Mukartono told the court that he wanted more time to prepare submissions, Reuters reported.
The judges have agreed to the prosecution's request to postpone the hearing to 20 April, one day after the election.
Jakarta police had also sought a delay citing security reasons. Given the religious overtones of the case, they explained they would have to beef up security around the city where religious and ethnic tensions are already running high.
"We think the police letter can be taken into consideration due to the matter of security," Mukartono told the court, referring to the timing of the next hearing.
Pedri Kasman, a member of the moderate Islamic group, Muhammadiyah, who reported the blasphemy allegations to the police, said he was very disappointed by the postponement of the trial.
"This hearing was delayed deliberately until after the election ... The election, a political factor, is affecting this legal process," Reuters cited Kasman as saying.
Purnama, also known by his Chinese name Ahok, was accused by hard-line Muslims of insulting the Quran in September 2016. Massive protests erupted across the capital for a few weeks in November and December as angry demonstrators demanded his resignation and subsequent arrest.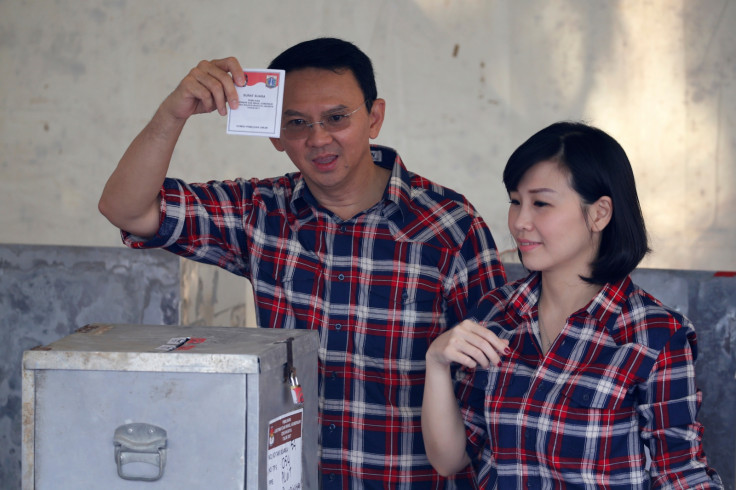 The incumbent government apologised for his comments and denied any wrongdoing.
The election to the governor's office attracts a lot of attention in Indonesia as the post is reported to be a springboard to the presidency. The elections first took place on 15 February in Jakarta but it ended in a tie, leading to the second and final round scheduled for 19 April.
Ethnic tensions and the blasphemy trial in the backdrop of the elections are reported to be testing the religious tolerance of the world's most populous Muslim country.
While Malaysia has an 85% Muslim population, the country is officially home to six minority religions including Christianity and Hinduism, as well as hundreds of ethnic groups.