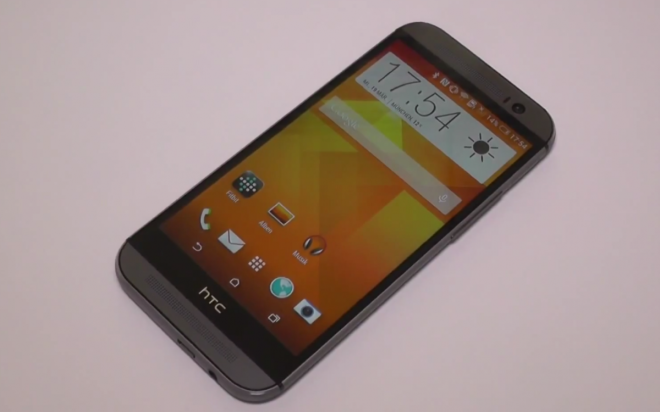 HTC has done a pretty poor job of keeping its 2014 flagship smartphone under wraps.
Multiple leaked images, videos, retail listings and insider sources have given us a pretty accurate indication of what to expect when the phone launches on Tuesday, 25 March.
Now however we have been given our first indication of pricing with US journalist Evan Blass (well known as tweeter @Evleaks) has revealed that the all new HTC One (codenamed M8) will cost $600 SIM-free (32GB version) in the US, which is the same price as the current version sells for.
Blass also reveals that there will be a gold version of the new smartphone, which will be sold exclusively through Best Buy stores in America.
This suggests that HTC's flagship 2014 smartphone will go on sale at around the same price as the original did last year, meaning UK customers are looking at paying in excess of £550 to buy the phone outright.
Bigger and more powerful
The phone is also likely to be on sale on all major UK networks with the price of tariffs due to be revealed following the launch on Tuesday.
Details of the phone have long been revealed in multiple leaks, and the all-new HTC One is expected to feature a slightly larger 5in Full HD display, powered by a 2.3GHz quad-core Qualcomm Snapdragon 801 processor and 2GB of RAM.
These details were backed up in the latest leaked video of the all new HTC One, this time a 14-minute long hands-on preview from Germany.
The video confirms the presence of the dual camera sensor on the rear - said to allow users to re-focus images after they have been taken - and a design which is very similar to last year's model.
The phone will very likely run the latest version of Google's software - Android 4.4.2 (KitKat) - which will be heavily skinned by HTC's own Sense OS software, including an updated BlinkFeed interface.
HTC One Watch
While HTC has been pretty open about what it will launch on 25 March, it could pull a rabbit out of the hat by launching a completely unexpected device - such as a smartwatch.
Google last week launched Android Wear, the company's big play for wearables, with Motorola and LG both revealing models which will use the software.
HTC is one of the official partners working with Google to launch an Android Wear smartwatch and it would certainly be a major coup for the company if it was able to unveil one this week.
The company is struggling to remain a relevant player in the smartphone market, having recorded more than two years of continuous revenue decline. Last year it revealed that it plans to launch a mid-range and budget smartphone in 2014, with the latter costing between $150 and $200.
While it is clear the all new HTC One won't fit either of these categories, the company could launch another device while the eyes of the tech world are watching.