HTC is holding media events next week, Tuesday 25 March in New York and London where is will unveil its flagship smartphone for 2014, the all-new HTC One (M8). but could it have a surprise up its sleeve in the shape of a HTC One Watch?
While the company hasn't gone as far as to tell everyone what it will announce next week, Carphone Warehouse (seemingly with the blessing of the Taiwanese manufacturer) has, sending out a press release on Tuesday confirming it will begin selling the "new HTC One (M8) handset" minutes after HTC announces it next week.
For those who haven't been paying attention, the all-new HTC One will look to build on the critical success of the original though it will be hoping that sales volumes will be bigger, as it looks to arrest a slide in sales which has been continuing for more than two years now.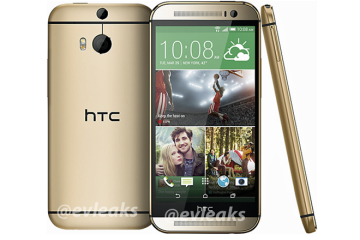 All New HTC One
The new phone - which is codenamed the M8 but will likely be called the "All New HTC One" - will feature a slightly larger 5in screen, a powerful Snapdragon 800 chip from Qualcomm, Android 4.4 (KitKat) and and a dual-camera setup which is likely to allow for editing the point of focus of images after you've shot them.
From the numerous leaked images and videos of the phone, HTC has stuck with a similar design to the original, though it's likely to be available in black and gold, along with silver.
But could the leaking of all this information about the all new HTC One simply be a smokescreen for the surprise launch of a HTC One Watch?
HTC One Smartwatch
On Tuesday Google revealed the manufacturers it is already working with to produce smartwatches running it Android Wear software in 2014.
Motorola and LG have already shown their hands (or should that be wrists) with the Moto 360 and G Watch respectively but Google is also working with Samsung, Asus and HTC.
The Taiwanese company is struggling financially and from its performance over the last 12 months, it's clear that selling smartphones won't be enough to stem the flow of lost revenue.
The company's chairwoman Cher Wang indicated last month that it was working on a fashionable smartwatch and would have one ready in time for next Christmas.
Distraction
Next Christmas is a long way away in technology terms, and by then LG, Motorola, Samsung and Asus are all likely to have Android Wear smartwatches on the market.
HTC could be playing a clever game of distraction in a bid to surprise everyone with a smartwatch launch before anyone else.
Specific details about a potential HTC smartwatch are unknown, but if the company is able to replicate the beautiful design of the HTC One in watch form, it could have a hit on its hands.
The launch of Android Wear will make smartwatches much more appealing to consumers who have until now been frustrated with the clunky implementation of Android on devices like the Galaxy Gear and the Sony Smartwatch.