In an incident that has gone viral, an Additional District Magistrate (ADM) official has been filmed urinating into India's sacred River Ganga. Ironically, the Allahabad state official was caught in the act while wearing a shirt with the words 'Clean Ganga' printed on it.
OP Shrivastav is believed to have urinated out in the open close to the Triveni Sangam, the holy spot where the River Ganga, Yamuna and the mythical Saraswati meet. The site is considered sacred by millions of Hindu worshippers and the video of the urinating official has since gone viral, prompting an angry response from many. It is believed that the incident took place following a media briefing at the Allahabad Boat Club in Uttar Pradesh, where all officials wore the 'Clean Ganga' shirts and addressed the press about Triveni Mahotsava cultural festival.
The Uttar Pradesh chief for the Bharatiya Janata Party (BJP) said that the act was an "unpardonable offence" and has called on the state's chief minister to suspect Shrivastav from his role. Laxmikanth Bajpai also said that he would be sending the images and video clip to the Ganga rejuvenation minister Uma Bharti, as well as to Prime Minister Narendra Modi.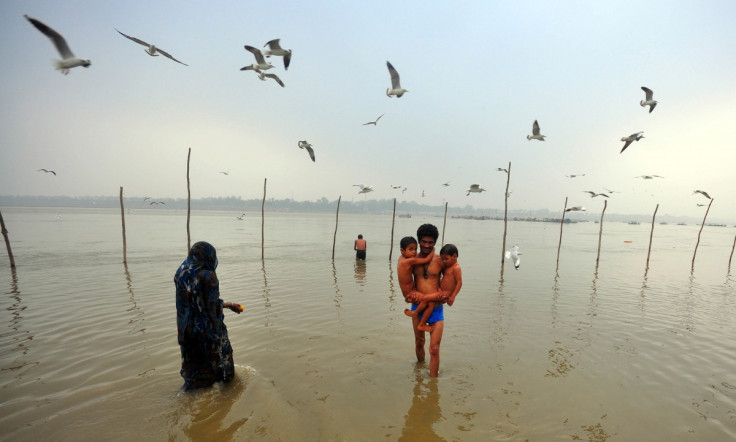 Bajpai told the Hindustan Times: "It is an unpardonable and condemnable act. The entire country led by the Prime Minister is working towards cleaning Ganga and Yamuna while this official has shown disrespect to the holy river as well as the sentiments of the people."
Following the photographs and video going viral, the guilty official has excused his act as a cause of health problems. He said: "I deeply regret the act. I am diabetic and could not control myself."
This contrasts with Shrivastav's previous response to the incident, in which he reportedly said that the media had "misunderstood" what he had done. He told the Press Trust of India: "I was just washing my hands and adjusting my pants. I was not urinating. I was 15-20ft away from the river. Like any other Hindu, I also respect Triveni Sangam a lot and would not do such a thing."