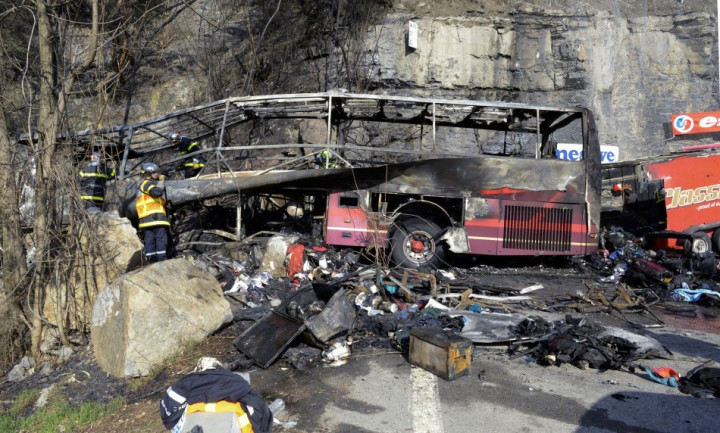 The British driver who died after a coach crash in the French Alps has been described as a "hero" following his actions to save the life of his passengers.
Maurice Wrightson, 64, from County Durham, was driving the coach with more than 50 British passengers returning home after working in the resort when it crashed.
Wrightson has now been praised for his "remarkable courage" as he slowed down the coach as it drove down the steep mountain road following suspected brake failure. The driver successfully managed to stop the coach from going over the cliffs near Alpe d'Huez resort.
The French Minister of Transport, Frédéric Cuvillier, praised Wrightson's courage. He said: "You can't call it a miracle because there is one dead and many wounded. But the human toll could have been much heavier.
"The driver's courage saved many lives. All the testimonies of the people we have met have confirmed this. His attitude and his actions prevented an even worse situation."
Janet Dawson, 47, a former colleague, told the Daily Mirror: "There seems no doubt Maurice gave his life to save the passengers.
"There can be no greater sacrifice. That was typical of him, he was such a lovely man."
There were 53 people on board the coach when it crashed and burst into flames, including two drivers. At least four of them are believed to have been seriously injured following the crash.
Wrightson, who worked for Classic Coaches, is also believed to have warned his passengers that the coach was due to crash, given some of them time prepare to escape.
Friends and family of the 64 year old have also paid tribute to him. Wendy Wrightson wrote on a Facebook tribute page that he was "a good man who lost his life far too soon, but lost it a hero doing what he did best.
"We lit all our candles last night and chatted fondly about you. You will be a huge miss to many people, but I wish you peace and sleep well, you deserve it. I am sure your star will be shining brightly for all to see and see it we all will."
Heath Williams, managing director of TGM, the coach firm's parent company, said: "We are deeply saddened to learn that one of our two drivers on board has died. We are offering our full support to his family and our thoughts are with them at this difficult time. He will be sadly missed by everyone at Classic Coaches.
"A number of passengers have sustained injuries and our thoughts are with them as they recover.
"It is too early to say what caused the accident, however, we have launched a full investigation and are working closely with the local authorities. Our own safety specialist is attending the scene to support the investigation."