Violence flares as far-right and anti-fascist groups rally in Dover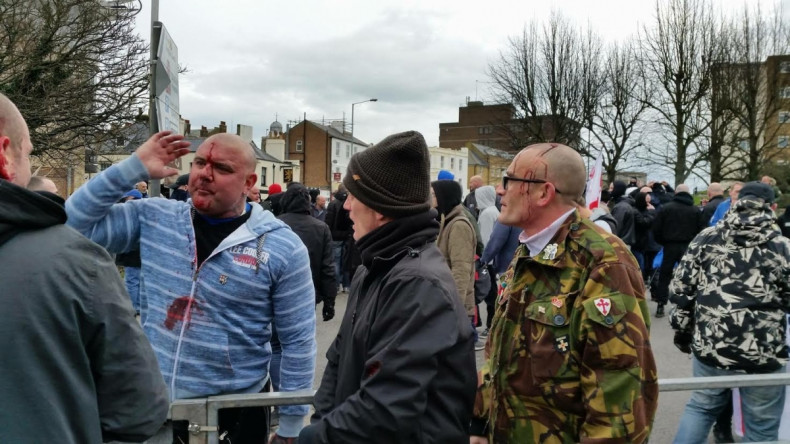 Violence broke out between members of far-right groups and anti-fascists after demonstrations in the centre of Dover. Despite a heavy police presence pictures emerged of bloodied protesters, brick throwing and scuffles in the Kent down.
Ahead of the demonstrations skirmishes erupted at Maidstone Service Station. Anti-fascist activists claimed that their coach windscreen was smashed by their rivals and a swastika was daubed in blood on the side of their vehicle at Maidstone services.
Kent Police said six men were arrested at the services on suspicion of violent disorder. Another three were arrest on suspicion of possessing an offensive weapon, breaching the peace and a public order offence.
More than 20 weapons "including a lock-knife, knuckle duster, poles adapted to cause harm, pieces of wood, glass, hammers and bricks," were seized, they said.
An elderly coach driver was injured, according to reports on social media which IBTimes UK is unable to independently verify.
Extra police officers were drafted into the town before the demonstrations, Kent Police said in a statement. "Larger numbers than recent protests" were expected to descend on the coastal community for the 30 January marches, they added.
"There will be extra police officers in the town whose main role will be to facilitate a peaceful protest, to maintain public safety and to minimise the impact on local people going about their daily business," they said.
However, despite their best efforts scuffles broke out between groups.
The first protest, headed by the Kent Anti-Racism Network, began on Saturday morning. The group describes itself as "a network of local groups and individuals who campaign against racism and fascism in the county" on its Facebook page.
"These far-right groups are fascists that try whip up hatred and intolerance," a spokesman told the Kent Messenger. "They have no support in Dover, but bring their hatred to our community, pretending to care about locals and lorry drivers."
Other groups from around the country had arranged transport to join them, according to the Anti-Fascist Network.
Fascists ban alcohol
A second protest led by right-wing groups began in the afternoon. Among those attending are the South East Alliance, the East Kent English Patriots and the North West Infidels who were expected to travel from Manchester and Bolton.
In a flyer advertising the march, the South East Alliance said they needed to "keep our heads clear and our wits about us," so they were requesting that there was "no alcohol on the march".
"We can all get together after the demo at a pub in or outside Dover and have a drink then," they said. "We are not there to kick off with the red scum. But we do know they will attack us and we shall defend ourselves without hesitation."
A spokesman from the East Kent English Patriots declined to comment to the IBTimes UK when asked to comment about their reasons for marching.