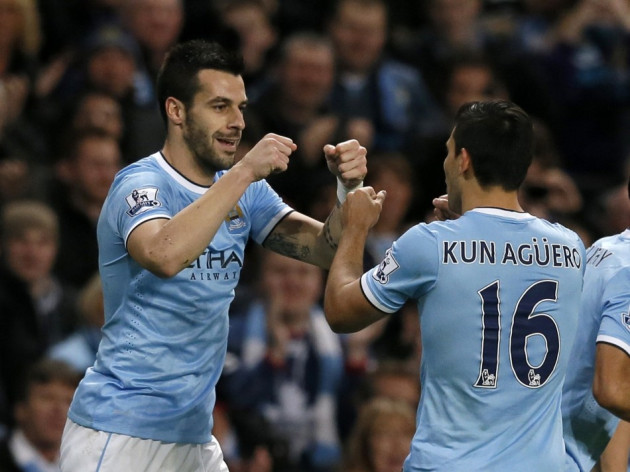 Manchester City striker Alvaro Negredo has revealed that the strong competition within Manuel Pellegrini's squad has made him a better player.
The Spaniard has already scored 12 goals in 20 games since he arrived from Sevilla in the summer - forging an impressive partnership with Sergio Aguero to become Pellegrini's first choice pair ahead of Edin Dzeko and Stevan Jovetic.
"As soon as you relax, you are f****d. At City competition is fierce, but you learn from each other and give your best so that you play as many minutes as possible. I thrive on the challenge." Negredo told in an interview with Four Four Two.
Manchester City paid around £20m to Sevilla to acquire his services last summer and Negredo explained how that happened and why he decided to leave La Liga and move to the Premier League
"As soon as City were interested in me, I didn't even think. I just said yes. They are a big club with a long history, which was on the main factors of me coming here," he added.
The City striker said that his adaptation to the Premier League has been easy and he claimed that he is not just a goalscorer but also a player with plenty of natural ability.
"I am no Zidane, but I am not a clumsy oaf that can't do anything but score goals. I'm strong with an English-type physique; so that's help me adapt to the Premier League."
Negredo came to the Premier League last summer but he already has some memories with Manchester City that will syat with him forever.
"If you win the Manchester derby, you win everything. Personally, to participate in two of the goals and win 4-1 was a beautiful moment, and it gave us a huge amount of confidence. It's like the victory counted double."