Amanda Knox conviction criticised by Italy's top court for 'flawed and hastily constructed' case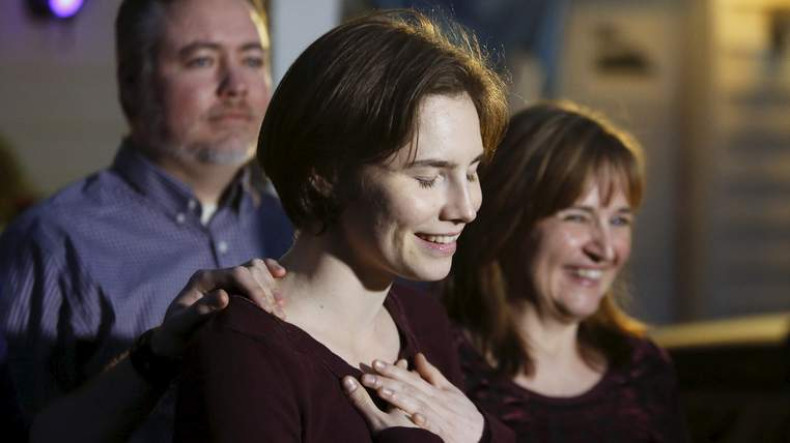 Italy's highest appeals court highlighted the 'glaring errors' in the investigation into the killing of Meredith Kercher in 2007. Amanda Knox and her ex-boyfriend Raffaele Sollecito were acquitted of the British student's murder.
A panel of judges at the court of cassation in Rome published its 52-page assessment on Monday 7 September, saying there was an "absolute lack of biological traces" of Knox or Sollecito in the room where Kercher was fatally stabbed, or on her body.
The quality of the prosecution case was attacked, citing the high profile and media frenzy surrounding the events to have had an effect on the investigators.
The direction the case took was "objectively wavering, whose oscillations are ... the result also of stunning weakness or investigative bouts of amnesia and of blameworthy omissions of investigative activity".
The judges said the lower court in Perugia that initially found Knox and Sollecito guilty in 2009 had ignored experts who had "clearly demonstrated possible contamination".
They said evidence pointed to the guilt of one man – Rudy Guede, born in the Ivory Coast, who received a 16-year prison sentence for Kercher's murder.
The judges agreed with the defendants' contentions that the convictions were a "violation of the principle of a reasonable doubt." The appeals court concluded that while there were indications Guede could have had accomplices, but nothing in the prosecutors' case proved that either Knox or Sollecito were involved in the murder, according to a Guardian report. Both have always maintained their innocence.
Carlo Dalla Vedova, one of Knox's lawyers, said the judges' explanation was tantamount to a "great censure, a note of solemn censure of all the investigators". Speaking about his client, the lawyer told AP: "She is very satisfied and happy to read this decision. At the same time, it's a very sad story. It's a sad story because Meredith Kercher is no longer with us, and this is a tragedy nobody can forget," he added.