Amanda Knox, Raffaele Sollecito to seek compensation after Meredith Kercher murder acquittal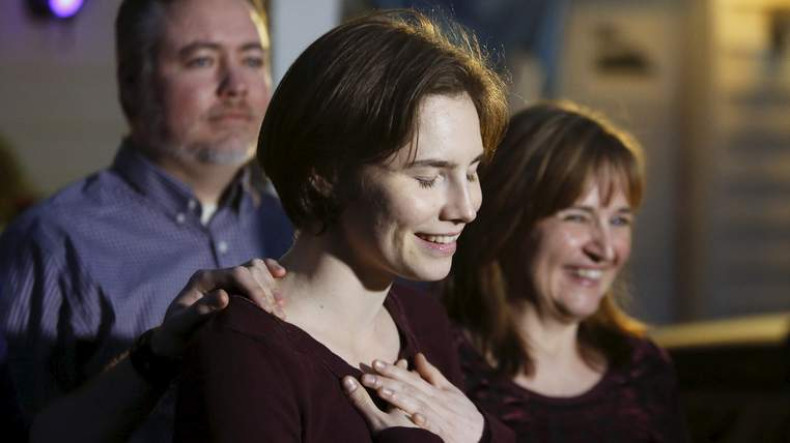 Amanda Knox and Raffaele Sollecito, who were both jailed in the murder of Surrey student Meredith Kercher, could claim millions in compensation after Italy's top court cleared them of all charges.
In a case that has been on-going for seven years, five judges acquitted the pair after ten hours of legal discussions at Rome's supreme court, citing insufficient evidence on 27 March.
Their lawyers have now confirmed that they will be seeking compensation over their time spent in the prison.
Carlo Dalla Vedova, one of Knox's defence lawyers, said the family would, "be seeking compensation for wrongful imprisonment."
Sollecito's father, Francesco, a doctor said: "You could hardly quantify a compensation figure, it has been such an awful business. We were pilloried."
While the claim figures have not yet been disclosed, it is reported that payments for long durations spent in prison amount to seven figures.
Upon hearing the verdict on 27 March, Knox, 27, who was at her mother's house in a Seattle suburb told reporters: "I'm still absorbing the present moment, which is full of joy. I'm grateful to have my life back."
Kercher's mother, Arline, however expressed her shock at the verdict saying: "They have been convicted twice so it's a bit odd that it should change now."
Kercher, 21, was found in a pool of blood at the house she shared with Knox in Perugia, north of Rome on 1 November 2007.
Knox, 27, and Sollecito, 31, were found guilty of the murder and sexual assault of Kercher in 2009.
After serving four years in prison, the pair was acquitted at a second trial in 2011.
The case was next sent back to trial and their original guilty verdict was upheld by a Florence court. On 27 March, Knox and Sollecito were acquitted for good following a fresh appeal.
"The last word has been said, but sadly questions will remain about Meredith's death," said Francesco Maresca, the Kercher family's lawyer, following the final verdict.