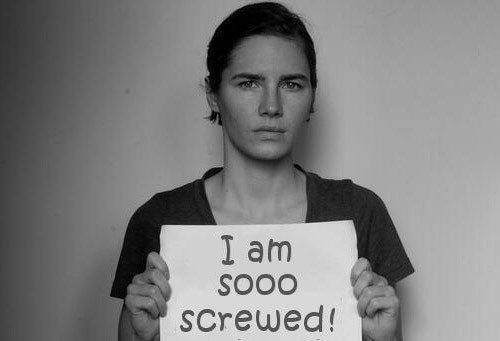 On Tuesday Amanda Knox posted a selfie on Twitter, declaring her innocence. In the black-and-white photo she holds a placard reading: "Siamo innocent" (We are innocent).
Knox posted the photo from her hometown, Seattle, in the US.
Knox and her 29-year-old ex-boyfriend Raffaele Sollecito were found guilty of murdering her roommate Meredith Kercher. It was the third trial for Knox and Sollecito, whose first two trials produced verdicts of guilty, then innocent.
While some Twitter users clearly believe her plea of innocence, favouriting her tweet, others have doctored the photo. In one tweet, the placard reads "We are convicted by three separate courts of framing an innocent man for murder (but I still haven't paid his damages)".
In another, Knox's face is replaced by that of Luciano Moggi, a former Italian football administrator who was involved in a scandal.
Knox has been also accused of hijacking a campaign to free al-Jazeera journalists imprisoned in Syria
IBTimesUK presents some of the most cutting Amanda Knox selfie parodies.
http://t.co/EOsSf0RpKJ pic.twitter.com/hdaQeQpzVF

— Amanda Marie Knox (@amamaknox) February 11, 2014
@AmyFeldtmann @IBTimesUK It's a disaster! Being spoofed everywhere! pic.twitter.com/uHhZZH0aE8 — MK (@santamariaxx) February 12, 2014
@AmyFeldtmann @IBTimesUK pic.twitter.com/PBySKUUgUM

— MK (@santamariaxx) February 12, 2014
Journalists in West Africa including @nicolashaque calling for colleagues to be released in #Egypt #FreeAJStaff pic.twitter.com/1Cu9hG5yep — Al Jazeera PR (@AlJazeera) February 12, 2014
Journalists in West Africa including @nicolashaque calling for colleagues to be released in #Egypt #FreeAJStaff pic.twitter.com/1Cu9hG5yep

— Al Jazeera PR (@AlJazeera) February 12, 2014
#amandaknox pic.twitter.com/1tzwQk52E4

— Claudio Notturni (@sturbone) February 12, 2014