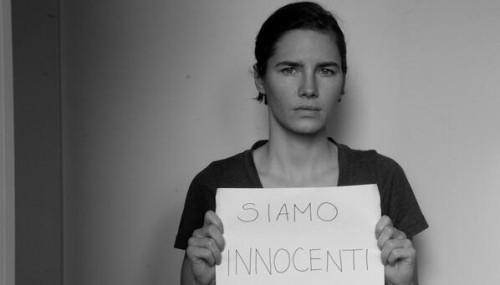 Amanda Knox has posted an image on Twitter again declaring her innocence after an Italian appeals court found the Seattle-born and her then-boyfriend Raffaele Sollecito guilty of murdering British student Meredith Kercher in 2007.
The 26-year-old, who has been in the United States since the appeals court overturned her conviction in 2011, shared a picture of herself in black and white with a gritty expression and a placard reading: "Siamo innocent" (We are innocent) in capital letters.
Six years of legal wrangling since Kercher was killed have failed to clear the air of mystery surrounding the case.
Knox was originally convicted of killing Kercher in 2009 by a court in Italy. The verdict was overturned on appeal in 2011 and Knox and Sollecito were freed, after spending a total of four years behind bars.
Rudi Guede was convicted of killing Kercher in a separate trial and was jailed for 16 years.
Italy's Supreme Court ordered a fresh retrial of the appeal and the pair were re-convicted last month.
Knox was sentenced to 28.5 years in prison. Sollecito to 25 years.
Describing her devastation at the verdict, the American said it felt like "being hit by a train."
She added that she felt stranded and trapped by the verdict that had cemented her reputation as a criminal in the eyes of the public.
In an interview with the Guardian, Knox said she struggles with guilt for falsely accusing Congolese barman Patrick Lumumba of murdering Kercher.