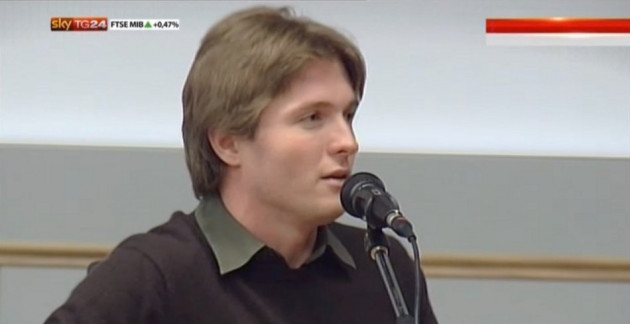 Amanda Knox's co-defendant Raffaele Sollecito made an emotional plea before an Italian court asking judges presiding over a retrial over the murder of British student Meredith Kercher to give him a chance to rebuild his life.
Sollecito told the Florence appeals court murder charges brought against him and Knox, whom he described as the first true love of his life, are "absurd".
"I humbly ask you to look at the facts of this story and consider the great error that has been made," Sollecito, 29 told the court.
"I ask you to believe that for a person like me, an Italian like you, there still is a possibility to have a life, because, currently I don't have one."
Sollecito and Knox, 26, are accused of killing Kercher, 21 in in the university town of Perugia, central Italy, on 1 November 2007.
Kercher, from Croydon, south London, was found with her throat slashed inside the apartment she shared with Knox. Prosecutors alleged she was killed by the two young lovers and a young drifter from the Ivory Coast, Rudy Guede, because she had refused to take part in a brutal sex game.
"Accusations against me, against us are absurd," Sollecito said.
The Italian said he didn't know Guede at the time of the murder and was not well acquainted with Kercher either. He was a week away from graduation and had just started a romance with Knox and to commit a murder was far from his thoughts, Sollecito said.
Love and Murder
"We were living the dawn of a light-hearted story, we wanted to be left alone in our nest of desire, in our fairy tale," he said. "Back then, everything could come into our minds but being so cruel and disrespectful of a human life."
Knox and Sollecito were arrested days after Meredith's body was found in a pool of blood in her room and they were sentenced to 26 and 25 years respectively in 2009.
"The life I had before is no more," Sollecito told the court, choking back tears. "It has been erased, taken away."
The ruling was overturned in appeal in October 2011 Knox and Sollecito, who have always claimed their innocence, were released.
However earlier this year, Italy's court of Cassation quashed the verdict and ordered a retrial that started in September.
"You can't understand how hard is it for me to be forced to appear again before a court after all that has happened, after all these years," Sollecito said. "It is unreal, a nightmare beyond any imagination."
Guede was given a 16-year sentence at the end of a separate trial and is serving his sentence in Viterbo jail, near Rome.
Amanda Knox said she will not attend the proceedings but remain in the US.
The trial continues.
READ:
Amanda Knox's Boyfriend Raffaele Sollecito 'Visited Meredith Kercher's Grave in London'
Meredith Kercher Murder Retrial: I'm Not Hiding from Justice Says Raffaele Sollecito [VIDEO]
Amanda Knox Co-defendant Raffaele Sollecito in Cash Appeal to Pay Lawyers