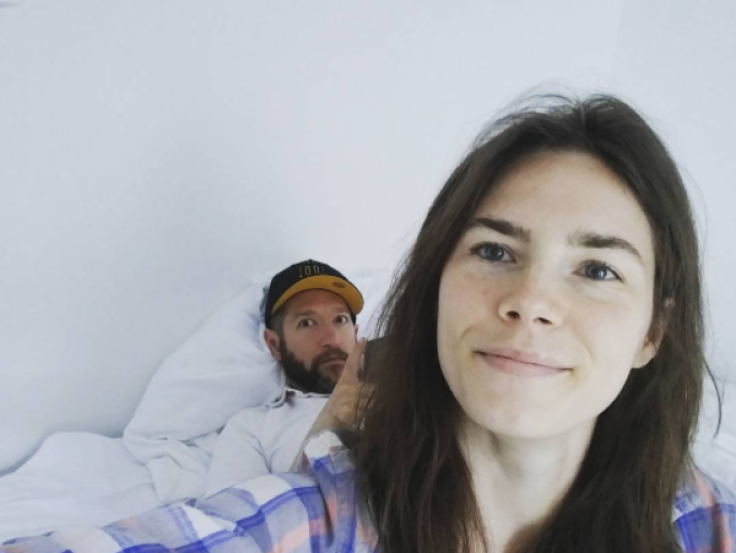 Amanda Knox has opened the virtual doors to her private world by making her Instagram account public.
The 29-year-old from Seattle who was dubbed 'Foxy Knoxy' by the tabloid press, spent almost four years in an Italian prison following her conviction for murdering her roommate Meredith Kercher in Perugia in 2007, has decided to share her private life on the social media platform.
She wrote: "What's happening? Well, I made my Instagram public. No more hoarding all my amazing cat videos."
One recent picture that has attracted the most likes is one of her dressed as Red Riding Hood in Black Forest, Germany, being stalked by a menacing wolf. Whilst the subliminal message is unclear it caught the eye of her 4,300-odd followers.
One person commented: "Absolutely wonderful. Stand tall!" as another put: "you're awesome for this !"
Other pictures show that Knox is living a quite life filled with lots of cats, homemade food and travelling with her author boyfriend Christopher Robinson.
She often makes healthy dishes with Robinson, proudly posting one shot of a kale salad with shrimp and another featuring a complicated dish of deviled eggs. Another picture shows a collection of criminal justice books.
Knox, now a writer, became a household name during an investigation into student Kercher's death in 2007, who was her roommate while studying in Italy. The Seattle native's murder conviction was overturned by Italy's highest court in 2015.
She was jailed for almost four years following her conviction after she and then-boyfriend Raffaele Sollecito were accused of murdering Kercher .
The media portrayed Knox in a negative light, dubbing her 'Foxy Knoxy', which lead to complaints that the prosecution was using character assassination tactics.
Knox was finally freed in 2011 has since completed her degree and worked on a book about her case.