More than 1,000 people have been displaced after a devastating 6.2 magnitude earthquake hit several towns in the centre of Italy killing hundreds on 24 August. Displaced people from Amatrice, the town worst affected by the natural disaster, spent the first night after the quake in a sports arena and a gym.
Volunteers and aid workers handed out foods and clothes, La Stampa newspaper reported.
Displaced people also slept in a park, as temperatures dropped to 8C. Some slept in tents, while others in the open with just coats and blankets to protect them from the cold temperatures.
As people tried to sleep while still in shock for having lost their loved ones as well as their homes, two powerful aftershocks hit the mountainous region.
The aftershocks struck at a shallow depth at the same epicentre as the 24 August earthquake, just 7km east of the historic town of Norcia, registering at 5.1 and 5.4 in magnitude.
Another 2,000 people in several villages across the three regions hit by the quake – Umbria, Lazio and Le Marche – refused to go back to their houses, which had not been destroyed by the quake, and spent the night in makeshift shelters.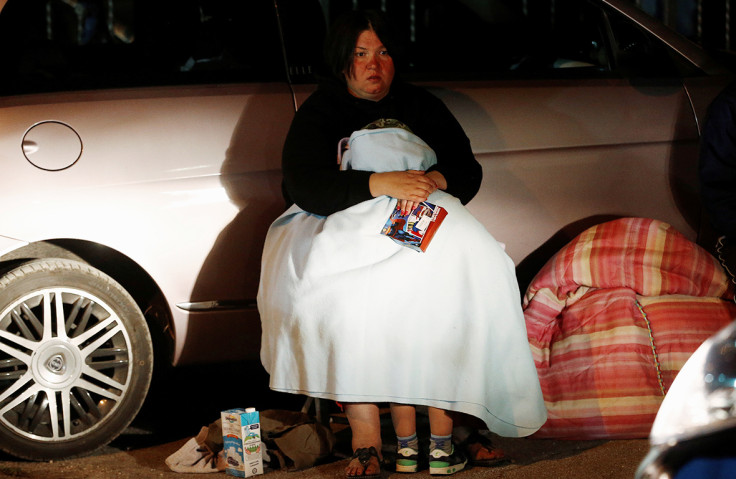 At least 250 people have died – 200 of whom in Amatrice – but the death toll is expected to rise. The towns of Accumoli, Amatrice, Posta and Arquata del Tronto were worst-affected. There have been reports of tremors as many as 105 miles from the epicentre, as far as in Rome.
The 24 August earthquake was the most devastating since the 2009 quake that hit L'aquila town killing more than 300 people. Officials said the death toll is expected to surpass the 2009 one.
Just before the provisional death toll was announced to have jumped from 159 to 250, the Italian Prime Minister Matteo Renzi told reporters talks of reconstruction would wait. "Today is a day for tears," he said. He also thanked aid workers and the Civil Defence for promptly offering assistance to survivors and people trapped in the rubble.
"Work will continue and we need to prepare for the emergency of the next hours, days and weeks. However, our priority now is to keep digging," Renzi said.