There has been no respite for residents in the towns and villages of central Italy in the aftermath of a devastating 6.2 magnitude earthquake which has so far claimed at least 250 lives. As the sun rose for the second day on the buildings left shattered and broken the night before, two powerful aftershocks hit the mountainous region waking its inhabitants.
The aftershocks struck at a shallow depth at the same epicentre as the 24 August earthquake, just seven kilometres east of the historic town of Norcia, registering at 5.1 and 5.4 in magnitude.
More than one thousand people have been displaced by the natural disaster, La Stampa reported. Most of those awoken by the tremors were sleeping in hastily erected tents, or their cars.
As Italy comes to terms with the scale of the destruction and loss of life, officials have said they expect the death toll to surpass that of the country's 2009 Aquila earthquake, which claimed 300 lives. Just before the provisional death toll was announced to have jumped from 159 to 250 the Italian Prime Minister Matteo Renzi told reporters talk of reconstruction would wait. "Today is a day for tears," he said.
He added that at least 368 injured people had been taken to hospital as rescue and recovery efforts continue, Reuters reported.
In Amatrice, the town worst hit by the earthquake and where at least half the buildings have been destroyed, rescue workers expressed relief as they worked through the wreckage of the Hotel de Roma, where it had been believed as many as 70 could have perished. It emerged that of the 35 guests at the central hotel most has escaped. Seven bodies were pulled from the rubble.
Working through the night, rescue workers used emergency lighting to illuminate the spaces where they worked. One ten-year-old girl was pulled from the a collapsed building where she lay after 17 hours.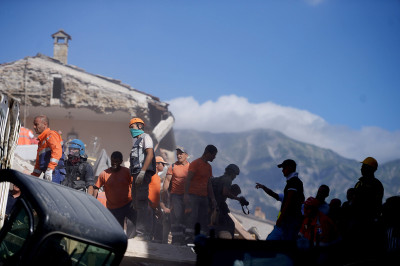 However, not all child victims of the disaster could be saved. A family of four, including two boys aged eight months and nine years, were buried when their house collapsed in nearby Accumoli.
As rescue workers carried away the body of the infant, carefully covered by a small blanket, the children's grandmother blamed God. "He took them all at once," she wailed.
The Italian cabinet is to meet today (25 August) to discuss further measures to help the affected communities. The brunt of the devastation has hit the Lazio and Marche regions, with Lazio bearing the brunt of the damage and the biggest toll.