The death toll from a catastrophic earthquake in central Italy is expected to rise, as Italian Premier Matteo Renzi confirmed those killed by the 6.2 magnitude quake has risen to 120, according to AP.
Hundreds are still unaccounted for in the aftermath of the earthquake which was followed by violent aftershocks, some of them as strong as 5.1 on the Richter scale. One witness told the Associated Press the scenes of devastation in the mountain towns were "like Dante's Inferno".
Sergio Pirozzi, the mayor of the town of Amatrice, one of the places worst affected by the disaster, has said he expects the death toll to rise as rescue efforts continue.
"The town isn't here anymore" he said of Amatrice where three quarters of the buildings have been destroyed and emergency responders have cared for the injured in the street because of structural damage to the hospital.
The Italian Prime Minister Matteo Renzi said in a statement that "Italy is crying" as he made his way to the scene of the devastation.
On the ground those residents left behind are struggling to come to terms with the level of destruction and the grieving the loss of life.
In Amatrice, where 35 of the dead have been recovered, the centre of town has been annihilated with thick white dust still hanging in the air. Broken gas main have left the streets smelling of fumes.
One woman, wrapped in blanket and contemplating the destruction told the Associated Press she had no idea what had become of her loved ones. "It was one of the most beautiful towns of Italy and now there's nothing left. I don't know what we'll do," she said.
Seventeen more dead have been found in the province of Ascoli Piceno, which includes Pescara del Tronto.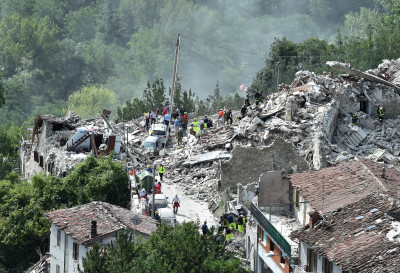 Priests in the devastated towns have begun blessing the dead as they are brought from the devastated buildings. Reverend Fabio Gammarota said he had blessed seven bodies so far including a friend of his.
Reverend Savino D'Amelio, weeping as he spoke, was lost for words at the scale of the tragedy. "We are only hoping there will be the least number of victims possible and that we all have the courage to move on," he said.
Residents in smaller, less accessible hamlets fear rescue efforts will not reach them. In some villages they have been digging their neighbours out by hand. "I hope they don't forget us," the mayor of Accumoli, Stefano Petrucci, where six people died told Sky TG24.
The extent and scale of the disaster has raised memories of Italy's 2009 earthquake which left 300 dead. The German and French governments have said they will offer emergency assistance to Italy as rescue crews are stretched to breaking point by the crisis.
Update (24 August, 5.32pm): The national Civil Protection Department says the death toll has now risen to 73.