Amazon is considering to lease 20 Boeing 767 jets in an attempt to expand its delivery operations. By leasing the jets, the company intends to build own its cargo operation, while reducing its dependency on carriers such as United Parcel Service and FedEx.
Amazon has reportedly approached several cargo-aircraft lessors, a senior aircraft-leasing company executive with knowledge about Amazon's plan, told the Seattle Times. The company had also held talks with Air Transport Service Group (ATSG), Atlas Air and Kalitta Air. A source in the cargo industry has said that Amazon intends to kick off its air-cargo operation by the end of January 2016.
"I believe they are serious about looking at this. They are not going to hang about," said the leasing executive.
Amazon couriers
Amazon could also deliver for other companies, while posing a direct competition to rival services such as UPS and FedEx, believes the analyst. Other retailers could store their products in Amazon warehouses, allowing Amazon to manage the delivery and distribution operations by itself. This is turn would help Amazon to keep the cargo planes loaded, even after the massive spike in sales once the holiday sales season passes.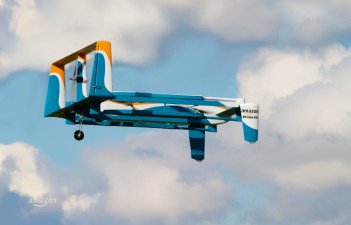 "They potentially will have air-cargo vehicles with extra space. So it makes sense to offer that space (to other companies) to fill it up," said Colin Sebastian, an analyst at Robert W. Baird, who believes that Amazon could start shipping for third parties "as soon as next year".
Sebastian further said, "Amazon is pretty fed up with the third-party carriers being a bottleneck to their growth."
One of the biggest challange Amazon could face is to find the cargo planes for the opertion. Although Boeing's 767s are preferred, they are limited in number. In addition, Amazon does not have certification as an air operator, which is required to fly airplanes commercially, Amazon might have to use cargo-plane lessors to launch its business.
"As an interim step, (Amazon) will probably have to sign up with somebody who already has 767s and can start the operation. Then they'll have to move, probably from 2017 onward, into acquiring airplanes themselves," said the leasing executive.
Amazon broadening services
Amazon as been working hard to gain greater control over its shipping services. It launched the first sorting centre in Kent, where the workers sort packages by postcodes, then place them on pallets for delivery to local post offices in that day's mail.
It has also announced a new service, Prime Now, for customers who pay a £79 annual subscription, which offers same-day deliveries in certain cities. One-hour delivery times are also available.
Amazon recently launched the grocery delivery service for customers in the UK called Amazon Pantry to compete with other online supermarket services from major grocery chains such as as Tesco, Sainsbury's, Asda and Morrisons and discount chains such as Lidl and Asda. This service has been successfully delivering fresh food by truck to customers across Seattle, San Francisco and New York.