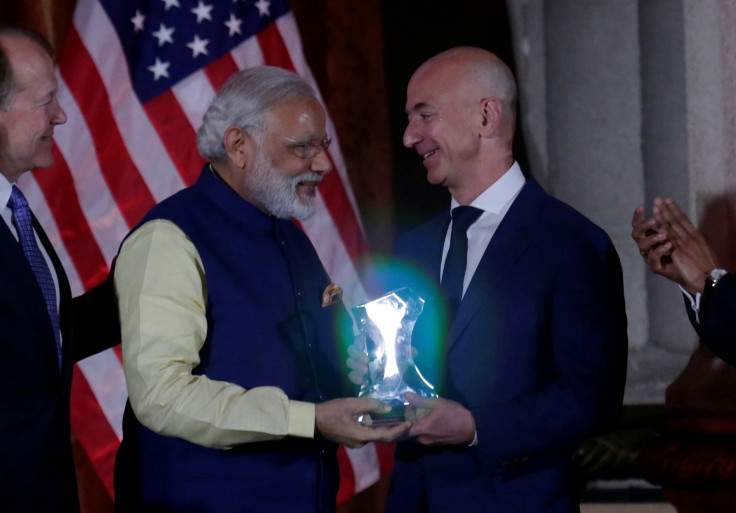 Amazon will invest $3bn (£2.06bn) in the booming Indian e-commerce market, the company's CEO Jeff Bezos announced during a meeting with Prime Minister Narendra Modi in Washington. Amazon's latest commitment topped the $2bn investment by the company in July 2014.
Analysts had expected the funding to last at least a few years, but the Seattle-based company was forced to use the investment at a faster pace due to increasing competition from local rivals Flipkart and Snapdeal.
Bezos's latest round of funding is clearly aimed at making Amazon the largest e-commerce player in India. "I can assure you it's only the beginning and as we say in Amazon, it's only day one," said the Amazon boss while speaking at the US-India Business Council's leadership summit.
Taking a look at the seated Modi, Bezos went on: "The people of India are incredibly dynamic. When I peer into the future of India, what I see is unlimited India."
The Indian market has become even more crucial for Amazon's global ambitions after its wings were clipped by Alibaba in China. This also forced Amazon to not just look for new customers from among the 1.25-strong Indian population but also to set up inventory for its global operations.
Amazon's announcement is certain to spur a fresh round of aggressive marketing and sales in the price-conscious Indian market.
"The added investment reflects the success to-date of Amazon in India, as well as a bright outlook for the e-commerce market in the region. It's really down to a two or maybe three-horse race, and Amazon clearly would like to be the winner," Colin Sebastian, an analyst at Robert W Baird, told Bloomberg.