American Apparel in fresh controversy for 'airbrushing nipples and pubic hair off models'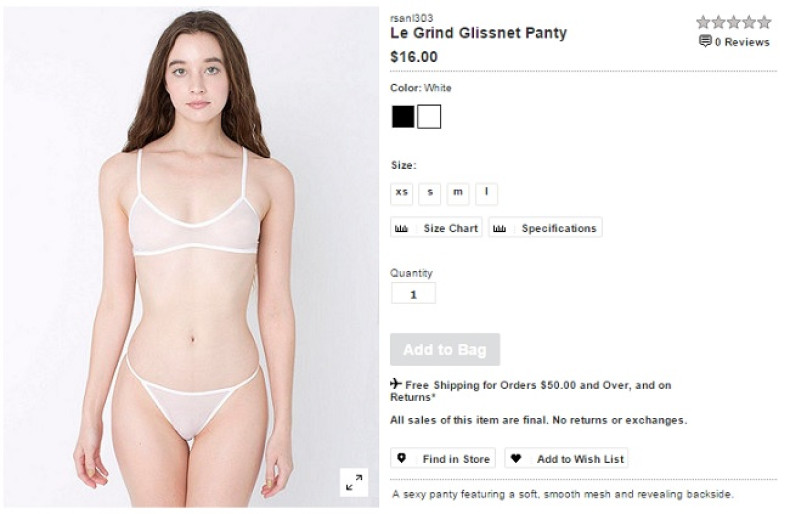 American Apparel has hit the headlines for the second time this week through an attempt to have 'less sexualised' images on its site by reportedly airbrushing the nipples and pubic hair off its models.
The odd move can be seen on the company's new lingerie products on offer, and has only started appearing over the last week, Animal reported.
The firm was not available for comment on its reported decision to erase models' private parts, which has been branded by anti-censor activists as disappointing for women's equality.
Michelle Lytle, activist and co-founder of a nipple-print bikini top called the TaTa Top, said: "American Apparel has taken many stances with their 'legalise gay' and 'legalise LA' shirts. To see them taking a strong stance on those issues but not on women's equality is disappointing."
It comes as the Advertising Standards Authority (ASA) banned the store on Wednesday (18 March) from featuring an ad with a young looking model in a spandex thong body suit – deeming it too sexual in nature.
The company argued the model was not underage but 20 years old. But the ASA upheld the complaint on the basis the ad "could be seen to sexualise a child" and "was irresponsible and likely to cause serious offence".
CEO Paula Schneider was appointed in January to replace Dov Charney after he was fired due to alleged misconduct, and was given the task of toning down the company's reputation of sexualised images.
In September last year the ASA banned advertisements with images linked to the firm's 'School Days' and 'Back to School' ranges, one of which showed a women in a short skirt bending over so that her underwear was visible.
The agency then said the images had the "potential to normalise predatory sexual behaviour" towards young women.