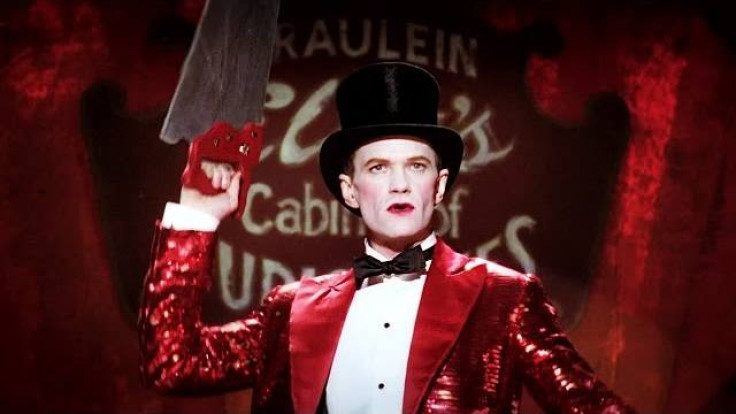 American Horror Story Freak Show is just 2 episodes away from its finale, and fans are excited to see how the show will end the Elsa story, and whether or not Dandy Mott will be stopped.
Neil Patrick Harris and his real-life husband, David Burtka, are set to guest star on FX's anthology smash and it seems like Harris' creepy character will not disappoint.
TV Line reported that Neil Patrick Harris' character named Chester would be a "chameleon salesman," and Burtka will appear in the season finale in a "sexy" storyline with Elsa (Jessica Lange).
David Burtha took to Twitter to tweet an image of the How I Met Your Mother star that resembles Twisty the clown.
Thanks @AHSFX for a creepy Christmas! @ActuallyNPH as twisty! pic.twitter.com/JuFLX4BTiy

— David Burtka (@Davidburtka) December 25, 2014
Meanwhile, Patrick Harris himself tweeted about his filming experience on the show.
Just finished filming my last scene for American Horror Story. I need to take a shower. Wash off all this horror.

— Neil Patrick Harris (@ActuallyNPH) December 7, 2014
A new promo released by FX teases the twisted role played by Harris, who will buy the Freak show carnival from Elsa.
The one minute promo for Magical Thinking also shows a lot of blood and a magic act.
Here are all the episodes with the dates the will be aired on and full descriptions:
Episode 11 is titled, Magical Thinking, which will air this Wednesday, 7 January, 2015.
The official synopsis reads as follows:
Episode 12 is titled, Show Stoppers, which airs on 14 January, 2015.
The official synopsis reads as follows:
Episode 13, the season finale episode is titled, Curtain Call, which will air on 21 January, 2015.
The official synopsis reads: