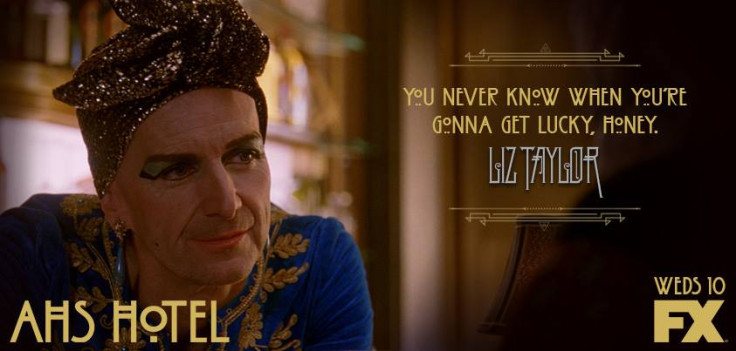 Fans loved the backstory of Denis O'Hare's character Elizabeth Taylor about how a married man from Topeka ends up as a transgender bartender in Hotel Cortez. The upcoming chapter of American Horror Story Hotel will feature a sex scene for Liz as she will find true love.
Episode 6 is titled, Room 33, which will air this Wednesday, 11 November at 10pm EST on FX Network. The official synopsis reads as follows:
Ramona and Donovan enact their plan for revenge. Liz Taylor finds true love. The resident of Room 33 is revealed. Written by John J. Gray; directed by Loni Peristere.
Click here to watch AHS Hotel via live stream. You can also click here to watch it online on the FX website in the US.
Meanwhile, actor Denis O'Hare dished about his character's romance in an interview with Daily Beast. He said, "She's a romantic!. What she's ultimately looking for is to live a fulfilling life. And halfway through the season she finds love, which is a first for me on this series. And that's really amazing."
Speaking of the sex scene, the actor teased, "I definitely have a sex scene. I do!"
Elsewhere in the episode, Detective John Lowe will have a psychotic break and fans will finally know who is the resident of the creepy room number 33 at Hotel Cortez. Also, Ramona and Donovan will make some headway in their revenge planning to take down the Countess played by Lady Gaga.
Moreover, the FX anthology series has been officially renewed for the sixth season. FX Networks CEO John Landgraf said, "With the sixth installment coming next year, American Horror Story has unquestionably joined the ranks of television's landmark series.
"From Murder House to Hotel, AHS has pioneered a new television form, as well as becoming FX's highest-rated show, while also pushing every conceivable boundary of creative excellence and audacity," Landgraf stressed.