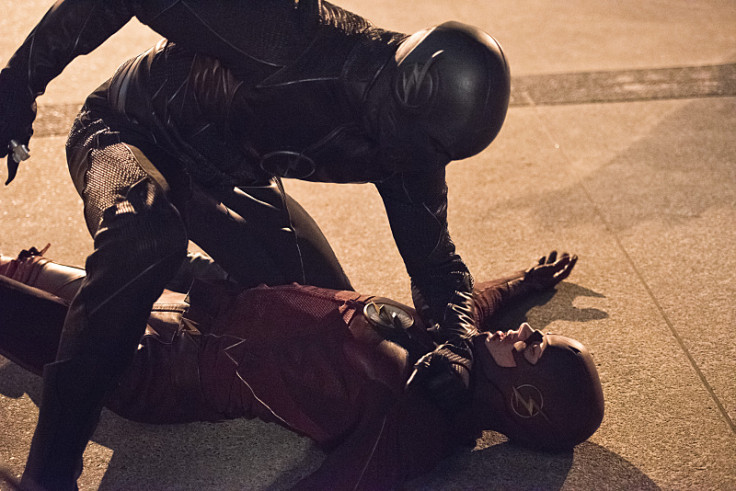 Harrison Wells from Earth 2 and Barry will team up to set a trap for Zoom, but taking down the Speed Demon won't be an easy task in the upcoming episode of The Flash season 2. Episode 6 is titled Enter Zoom which will air next Tuesday, 10 November at 8pm EST on The CW Network.
The official synopsis reads as follows:
After recent events, Barry (Grant Gustin) decides it's time to confront Zoom and comes up with a dangerous plan. Caitlin (Danielle Panabaker) sides with Jay (guest star Teddy Sears) and deems it too dangerous for Barry to engage with the speed demon. However, Iris (Candice Patton) shows her support and brings forth a surprising ally. We see what Earth-2 Harrison Wells' (Tom Cavanagh) life was like before coming through the breech.
Click here to watch the episode online on The CW website. Actor Grant Gustin himself revealed that Barry is no match for Zoom, who is stronger and faster. Gustin told Entertainment Weekly: "He's [Zoom] got this demonic quality to him. As soon as Barry is face-to-face with him — like right in front of him battling with him — it becomes immediately clear to Barry, 'Maybe I'm not ready for this.' "
"It's pretty scary. It's going to be one of the more disturbing things, I think, that the viewers will have seen happen to Barry. It's not pretty. He's much stronger and faster, and Barry's not necessarily ready for this, but he thinks he is," the actor teased.
Actor Tom Cavanagh revealed that the episode will also offer a peek into Harrison Wells life in Earth 2. "You've gotten a glimpse of what this guy's life is like. Then you see this man in S.T.A.R. Labs on Earth-One, the same face and visage, clearly this man has had things stripped of him and now he's down to priorities."
Cavanagh added: "A person who is cornered like that is going to act a different way... This version is all about getting what he needs. His whole life revolves around getting what he needs and nobody and nothing is going to stop him."