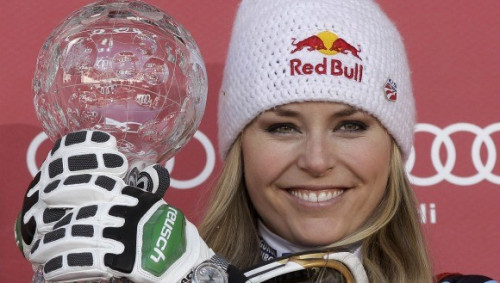 American skier Lindsey Vonn has told of her devastation at making a late withdrawal from the 2014 Winter Olympics in Sochi following failure to recover from a knee injury.
The 29-year-old is regarded as the most recognisable female winter sports athlete and most notably claimed gold in the downhill in Vancouver in 2010.
Vonn underwent knee surgery 11 months ago and had hoped that she would recover in time to defend her title in Russia in February.
Her Facebook message read: "I am devastated to announce that I will not be able to compete in Sochi.
"I did everything I possibly could to somehow get strong enough to overcome having no ACL but the reality has sunk in that my knee is just too unstable to compete at this level.
"I'm having surgery soon so that I can be ready for the World Championships at home in Vail next February."
She added: "On a positive note, this means there will be an additional spot so that one of my teammates can go for gold. Thank you all so much for all of the love and support. I will be cheering for all of the Olympians and especially team USA!"
In February last year Vonn tore the anterior cruciate ligament (ACL) in her right knee before aggravating it again in Val d'Isere on her return to World Cup racing in December.
Vonn is just four wins off eclipsing the women's record of 62 World Cup race victories currently held by Austria's Annemarie Moser–Proell.
In an interview with Matt Lauer on TODAY she said: "I don't think I was pushing myself too hard.
"It just was unfortunately a fluke accident. That's the risk you take when you're going 80-90 miles an hour down a mountain. That's just part of the job, but I've picked myself back up, and I'm trying as hard as I can to keep going. I'm working as hard as I can."
The news comes exactly a month before the start of the Winter Olympics and is the latest blow to organisers who have come under pressure amid Russia anti-gay laws which have dominated the lead-up to the Games.