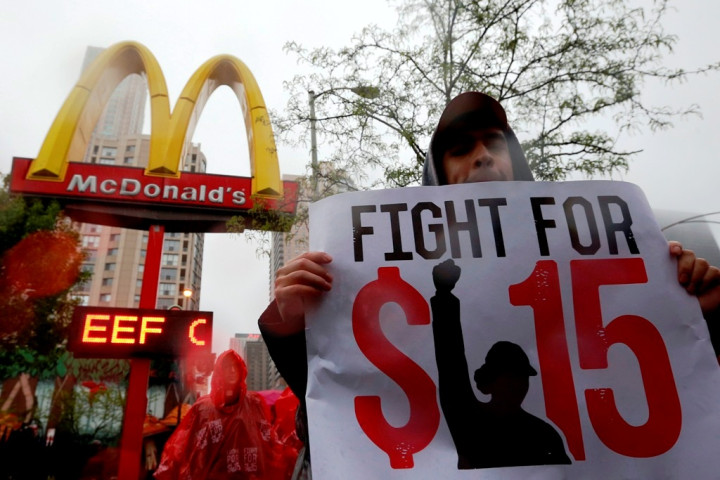 Fast-food workers across America are expected to take to the streets today to demand higher wages and the right to unionise, reports said.
Thursday's planned nationwide walkout, expected in over a 150 US cities like New York, Detroit and Los Angeles, is the latest in a two-year old campaign for better pay and the permission to unionise jobs across the board.
The protests come as several US cities mull minimum wage hikes while Democrats in Congress hope to raise the federal minimum wage ahead of November 2014's mid-term congressional elections.
"We're going to have walkouts all over the country," Kendall Fells, organizing director of the movement called Fight for 15 told Reuters.
"There are going to be workers who don't show up to work or who walk off the job at 12:01 a.m. or at noon," Fells added.
"Nobody who works 40 hours a week should be living in poverty," US Senator Bernie Sanders, an independent from Vermont, said on Twitter.
"I applaud the fast-food workers all across the country who will be striking on Thursday to raise the minimum wage to a living wage," Sanders added.
One in six restaurant workers in the US, or 16.7%, live below the official poverty line, according to a 21 August report by the Economic Policy Institute (EPI).
The median hourly wage in the restaurant industry, including tips, is $10 (£6.08, €7.60) compared with $18 outside of the restaurant industry, the report added.
The restaurant industry in the US employs over 10 million people, according to EPI.
Fast food staff across America have campaigned for a rise in wages to $15 an hour and the right to unionise since 2012, following the first co-ordinated walk by McDonalds staff in New York.