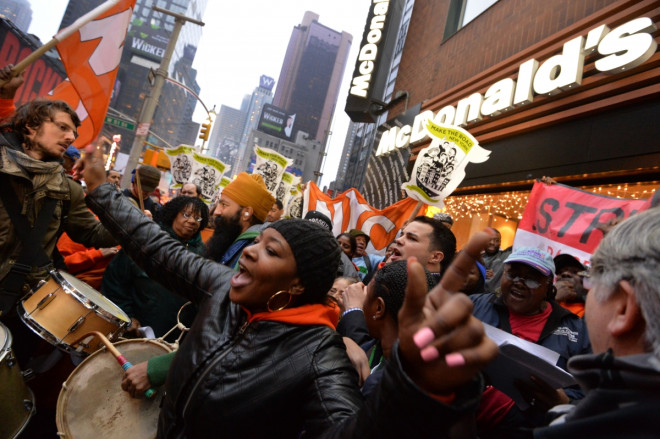 The world's largest fast food strike is taking place across the world today (15 May), with workers in more than 30 countries expected to stage a one-day walkout.
Fast food staff across the US have campaigned for a rise in wages to $15 (£8.84) an hour and the right to unionise since 2012, following the first co-ordinated walk by McDonalds staff in New York.
Following several other one-day walkouts by fast food staff from chains including Taco Bell and KFC, the campaign has now gone global, with around 33 countries including New Zealand, Brazil and Italy expected to join the 150 cities in the US posed to strike.
Ron Oswald, general secretary of the International Union of Food, Agricultural, Hotel, Restaurant, Catering, Tobacco and Allied Workers' Associations (IUF), said US fast food employees had inspired workers from across the globe to "fight for higher pay and better rights on the job."
"This is just the beginning of an unprecedented international fast food worker movement — and this highly profitable global industry better take note," he added.
IUF represents 12 million workers from 396 unions across 126 countries.
Campaign groups who help organise the protests, including Fight for 15 and Fast Food Forward, have been documenting where the strikes are taking place on the other side of the world before they begin in the US.
Thousands of workers are expected to strike in cities such as Detroit, Los Angeles, and New York City in a bid to more than double their wage from the current federal minimum of $7.25.
Many of the fast food restaurants whose workers are striking have refused to comment on the strike. McDonalds have said it would be "inappropriate" to discuss the walk-outs, but did defend the treatment of their workers.
"We respect everyone's right to voice an opinion and our restaurants remain open every day thanks to the dedicated employees serving our customers," a spokesperson said.
"This is an important discussion that needs to take into account the highly competitive nature of the industries that employ minimum-wage workers, as well as consumers and the thousands of small businesses which own and operate the vast majority of McDonald's restaurants,"
McDonalds added "80% of our global restaurants are independently owned and operated by small business owners, who are independent employers that comply with local and federal laws."
Seattle mayor Ed Murray is proposing to raise the minimum wage in the city to $15, making it the highest in the country. The current minimum wage in Washington state is $9.32 an hour.