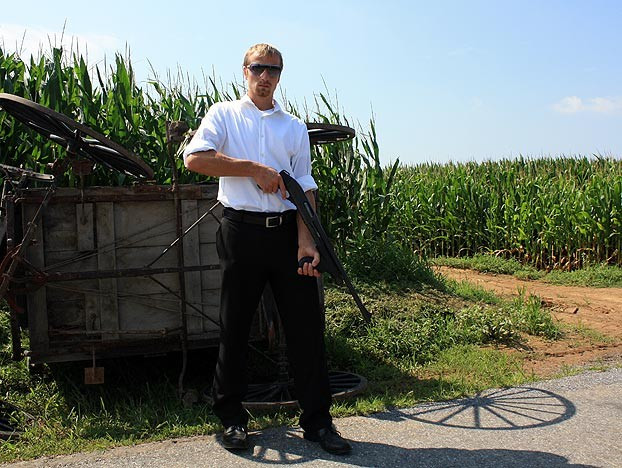 Discovery channel's new docu-series Amish Mafia has already triggered controversy before being broadcasted.
Due to air on December 12, Amish Mafia tells the story of a group of four self-styled law enforcers in the Amish community of Lancaster, Pennsylvania.
Headed by thick skinned Mennonite Lebanon Levi, the four "protect and maintain peace and order within the Amish community in Lancaster," Discovery says.
They do so with their own violent methods made of sawn-off shotguns and baseball bats.
"The [Amish] Church denies that the Amish Mafia exists - yet, like any other person in a community who holds power, the Amish know who to go to if there's a problem," series executive producer Dolores Gavin told the New York Post.
The gang was reportedly created after a 2006 school shooting in which five Lancaster Amish girls were killed by a non-Amish truck driver.
It is not the first time episodes of violence amid the Amish community make the news pages. Earlier this year sixteen members of a breakaway Amish group were found guilty of hate crimes after brutally removing the hair and beards of rivals in the community.
However the attacks were perpetrated through Amish-acceptable means such as shears and clippers.
Most Amish live in rural communities and shun the use of modern technology so that they are not permitted to drive cars or use modern weaponry. Their belief include pacifism and they are conscientious objectors in times of war.
Different to the other members of the Amish community, according to Discovery, Levi doesn't have to comply with the church's rigid prescriptions since he was never baptized.
"He [Levi] exists above the law and occupies the role of police, judge and jury," Discovery says.
However the show has been accused of being "trash" and worse, defaming the Amish world with a documentary that seeks the money more than the truth.
"My own view is this is trash TV," Donald Kraybill, a professor at Elizabethtown College told Lancaster Online. "To call these shows documentaries is a fraudulent lie."
The show follows the great success of also controversial Breaking Amish, broadcast by Discovery's sister network TLC.
"There is big money to be had, and they pay these people big money to be on the show," Kraybill said.
"If anyone thinks that the Discovery Channel is about actual discovery of, say, science, history, space, or tech, as their Web site claims, think again," Michael Shank as adjunct professor at George Mason University's School for Conflict Analysis and Resolution who grew up in an Amish-Mennonite community, wrote on the Washington Post.
Shank described the show as "the most offensive production yet from Hollywood regarding Amish people."
"Don't get me wrong, there's plenty to shed light on in any closed religious community, especially those with patriarchal tendencies, like some, but certainly not all, Amish and Mennonite communities. Physical and sexual abuse, mental disabilities, and obsessive-compulsive disorders are not uncommon, for example," Shank wrote. "But this December, American audiences will not discover or learn anything about that."