The Sudanese government has been accused of using chemical weapons against civilians in the western region of Darfur. Rights group Amnesty International has claimed that more than 200 people, including many children, have been killed with banned weapons since the beginning of the year.
The eight-month-long investigation alleged that between 200 and 250 people, many or even most being children, died after being exposed to chemical weapon agents, released by bombs dropped from planes and rockets.
Many others survived, but later developed symptoms including "severe gastrointestinal conditions involving bloody vomiting and diarrhoea; blistering and rashes on skin which reportedly hardened, changed colour and fell off; eye problems including complete loss of vision; and respiratory problems which were reported to be the most common cause of death".
Several people interviewed by the NGO said they did not have access to medical care and were treated with a solution of salt, limes and local herbs.
The attacks were carried out during a large-scale military offensive launched in Jebel Marra in January 2016. The offensive has pitted Sudanese forces against the Sudan Liberation Army/Abdul Wahid (SLA/AW) rebel group, accused of carrying out attacks against the military.
The embassy of Sudan in London has not replied to a request for comment on the allegations. However, news agency Reuters quoted a government official as saying the accusations were fabricated.
"The allegations of use of chemical weapons by Sudanese Armed Forces is baseless and fabricated," Sudan's UN Ambassador Omer Dahab Fadl Mohamed said. "The ultimate objective of such wild accusation is to steer confusion in the ongoing processes aimed at deepening peace and stability and enhancing economic development and social cohesion in Sudan."
Sudan's President Omar al-Bashir is wanted by the International Criminal Court (ICC) for alleged crimes including genocide committed during the Darfur conflict in 2003. Bashir has always rejected the charges and refuses to stand trial as his country does not recognise the ICC's jurisdiction.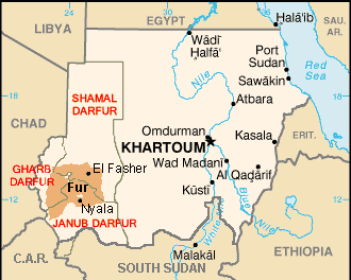 Darfur conflict
The war in Darfur started in February 2003 when the Sudan Liberation Movement/Army (SLM/A) and Justice and Equality Movement (JEM) rebel groups attacked the Sudanese government.The government, accused of marginalising the non-Arab population in Darfur, retaliated by carrying out ethnic cleansing of non-Arabs.
Tens of thousands were killed during the genocide. A ceasefire was signed seven years later, in February 2010. However, reports have warned that people are still being tortured, raped, persecuted and killed.
In March 2014, a report by the UN Office for the Coordination of Humanitarian Affairs (OCHA) said 55,000 people had been displaced from Saraf Omra, West Darfur, following fighting between "paramilitary troops and government forces". More than 50 villages were burned and 45,000 people displaced around Darfur. Russia and China were accused by Amnesty International of supplying arms to Sudan and therefore contributing to the massacre.
Read more about Darfur.