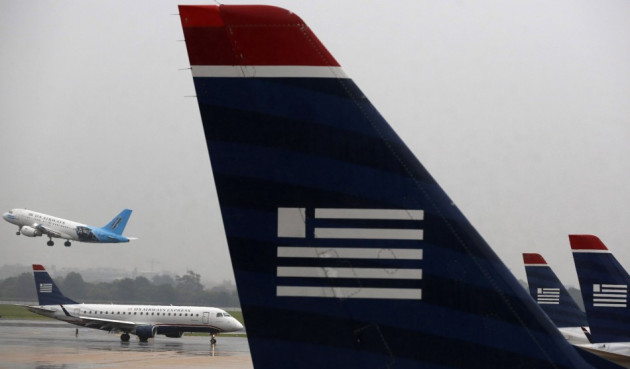 The US government has sued American Airlines and US Airways to block their proposed merger aimed at creating the world's largest airline.
The Justice Department filed an antitrust lawsuit with the US states of Arizona, Florida, Pennsylvania, Tennessee, Texas as well as the District of Columbia against the merger saying that it would result in consumers paying higher airfares and fees.
"This transaction would result in consumers paying the price - in higher airfares, higher fees and fewer choices," Attorney General Eric Holder said in a statement.
"Today's action proves our determination to fight for the best interests of consumers by ensuring robust competition."
Following the news, the AMR stock fell 45.4% to $3.17 on over-the-counter markets, while US Airways declined 13.1% to $16.36 on the New York Stock Exchange.
The merger was only subject to the approval from the Justice Department after the companies' creditors gave their nod for the $11bn (£7bn, €8bn) deal, creating a mammoth airline group with 6,700 daily flights and an annual revenue of about $40bn.
On 5 August, the airlines secured European Union approval after promising to surrender some slots at London's Heathrow and Philadelphia.
The deal that was announced in February and set to close next month is likely to be delayed or blocked as a result of the surprise move by the Justice Department.
The lawsuit resulted from the Justice Department's extended review of the merger to determine whether the combination of the two carriers would reduce competition or create a monopoly in any markets. The combination is expected to create the largest carrier by passenger traffic, surpassing United Continental.
AMR and US Airways are planning to launch a "vigorous and strong defence" against the lawsuit to block their merger, which according to them, would enhance competition in the aviation market.
"We believe that the DOJ is wrong in its assessment of our merger," the airlines said in a joint statement.
"Integrating the complementary networks of American and US Airways to benefit passengers is the motivation for bringing these airlines together."
Consolidation of US Aviation Market
The proposed merger comes after a number of airline tie-ups in the US amid rising fuel costs and the 2008 global financial crisis. The Justice Department previously allowed six unprofitable airlines to merge over the past five years in an effort to cut costs and end losses. The high-profile mergers approved by the department include that of Southwest and AirTran and United and Continental.
The American Airlines-US Airways merger was considered as the final step in the consolidation that helped US airlines to return to profit after years of heavy losses.
The surprise move by the Justice Department could stall a broad industry restructuring anticipated by investors. It would also block the American parent AMR's attempts to come out of its nearly two-year-old bankruptcy.