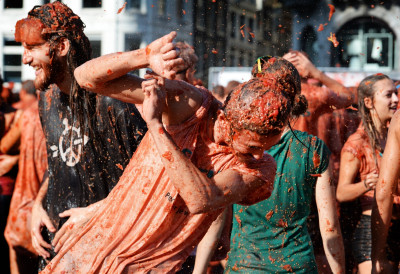 In a colourful protest against a Russian ban on fruit and vegetables from Europe, hundreds of Dutch people fought a tomato battle in central Amsterdam.
Young men and women gathered in the capital's Dam square at the weekend and joyfully threw thousands of overripe tomatoes at each other.
"It was hard in there. It was mean. But it was fun," said attendee Lois Bloedjes. "Everything became one big pile of mush. There were people swimming in it on the ground."
Styled after the world-famous 'La Tomatina' tomato fight in Spain, the event was to show support to Dutch farmers affected by Moscow decision to boycott Western agricultural products in retaliation to US and EU sanctions over its role in the Ukraine crisis.
In 2012 the Netherlands was the world's largest tomato exporter, a title for which the country has vied with Mexico in recent years. Last year it sent tomatoes worth $100m (£61.5m) to Russia.
Organisers said some 120,000 tomatoes labelled unfit for human consumption were purchased to be used in the Amsterdam protest.
Fighting started as a shipping container full of the red vegetable was emptied into a fenced area of the square.
Access to the 'arena' was restricted to the about 1,000 ticket holders who paid €15 (£12) each for the opportunity of smacking friends and strangers with tomato pulp.
Organizer Joep Verbunt said profits were to be devolved to local tomato growers hurt by the Russian ban.
The leftover tomato sludge was collected after cleaning and sent to a biogas production facility.