Amsterdam Red Light District: World's Oldest Prostitutes Announce Retirement [VIDEO]
Louise and Martine Fokkens, twin 70-year-old prostitutes, who claim to be the oldest in Amsterdam's famous red light district, have announced their retirement. The Sun reports the women, who, between them, have been in the industry for 100 years, have slept with over 355,000 men.
Time and age, however, have taken their toll. Louise Fokkens, a mother of four, said her arthritis mean some sexual positions were "too painful".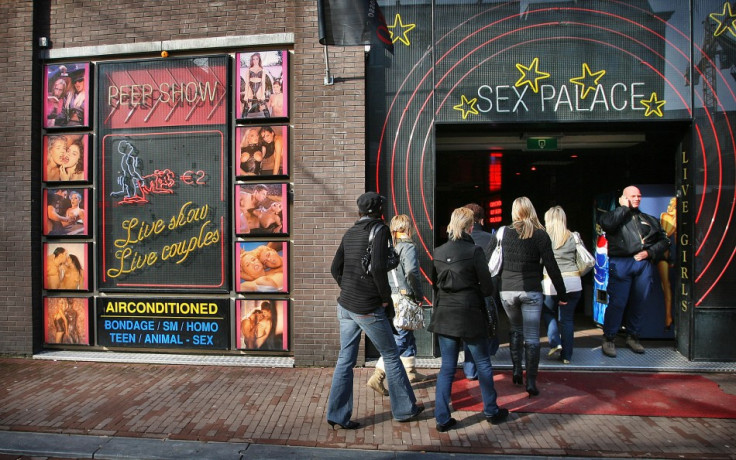 Martine Fokkens, a mother of three children, said she was retiring because it was becoming increasingly difficult to attract customers; she still has regulars though, such as one elderly man who has a weekly S&M appointment. She explained: "I couldn't give him up. He's been coming to me for so long like it's like going to church on a Sunday."
The pair entered the world of prostitution 50 years ago and they were forced to do so to make living after escaping from abusive relationships.
"I was beaten in the street by my husband in my early 20s," Louise explained, "He told me unless I earned money for him, he would leave me. I had children, and I loved him. So I had to do it."
Her sister's introduction was a little more roundabout. She said she was shocked when she heard about Louise's profession but after a number of enquiries for her service (she worked as a cleaner in the brothel), she too joined the trade.
"So we started doing threesomes, and that was how we ended up working in the same house (brothel) together," Martine explained.
Today, after nearly a lifetime in prostitution, the twins say they are unhappy with the evolution of the industry. They claim the entry of "mafia from eastern European countries", after the legalisation of brothels and the sex trade, has ruined the "community" feeling.
"There is no point working just for tax. That is why the girls are working from the internet and from home because you are less likely to be spotted by the taxman," Martine said. "The whole family used to live off your earnings and now the tax office comes up with crazy amounts you have to pay. It is better for the pimps and the foreigners, but not the Dutch girls. The vultures came in 2000. Organised criminals. They thought, ahah, it is legalised. Now we are OK."
Louise echoed her twin's concern, saying: "It is very different now. We used to sit by the window with our clothes on. Today, they are totally naked."
The Fokkens sisters were the subject of a documentary - Meet the Fokkens - which released in December, 2011.
Check out the English language trailer...
[Video Courtesy: SubmarineChannel/YouTube]
© Copyright IBTimes 2023. All rights reserved.