After three people died in an Amtrak passenger train derailment near Olympia, Washington, on Monday (18 December) morning, another Amtrak passenger train collided with an 18-wheeler on the same night in San Marcos, Texas.
However, no one has been feared injured or dead in the latest accident, the CBS Austin reported.
Union Pacific, the owner of the tracks, said the accident happened at the Wonder World Drive crossing when a semi-truck was on it and did not clear in time. It added that around 9pm local time (3am GMT), the accident's area was checked and cleared for operation after the truck involved in the collision was towed.
The Monday night accident happened after an Amtrak Cascades train 501 barrelling south on its inaugural run derailed onto Interstate 5 between Tacoma and Olympia. Earlier reports said six people had died but a late afternoon briefing by state and local officials put the number of confirmed dead at three, with others in critical condition at local hospitals, the Spokesman reported.
Local media reports stated that the train was travelling at speeds of up to 80mph (127kmh) at the time with about 80 passengers, five crew members, and a technician on board.
Chris Karnes, a passenger on the train, told CBS News: "We had just passed the city of DuPont and it seemed like we were going around a curve."
"All of a sudden, we felt this rocking and creaking noise, and it felt like we were heading down a hill. The next thing we know, we're being slammed into the front of our seats, windows are breaking, we stop, and there's water gushing out of the train. People were screaming."
He added that the new tracks – part of a $180.7m (£135m) project – were supposed to be "upgraded to be able to handle higher speeds. I'm not sure what happened at this juncture".
Governor Jay Inslee declared a state of emergency for Pierce and Thurston counties. In a statement, he said: "Today's tragic incident in Pierce County is a serious and ongoing emergency. Thank you to the first responders on the scene. We're praying for everyone on board the train, and ask everyone to hold them in your thoughts."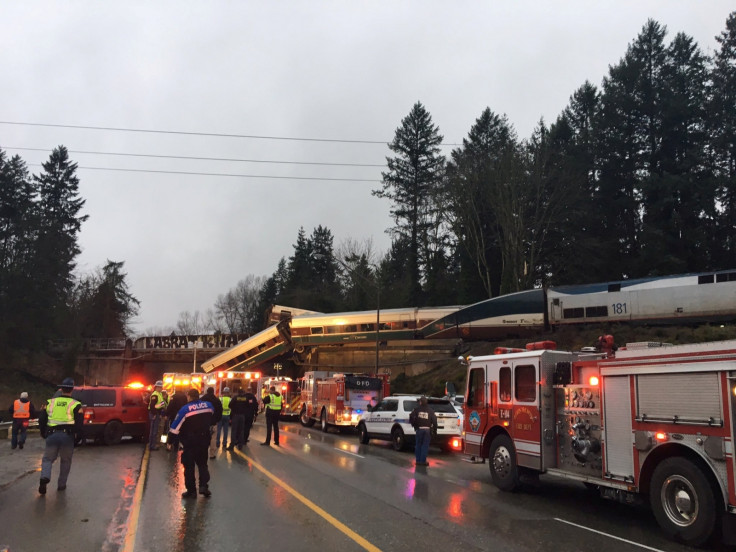 Three hours after the accident, US President Donald Trump also tweeted, saying that this was an example of why "our soon to be submitted infrastructure plan must be approved quickly. Seven trillion dollars spent in the Middle East while our roads, bridges, tunnels, railways (and more) crumble! Not for long!"
He said in another tweet that his thoughts and prayers were with everyone involved in the train accident in DuPont, Washington. "Thank you to all of our wonderful First Responders who are on the scene. We are currently monitoring here at the White House," he added.