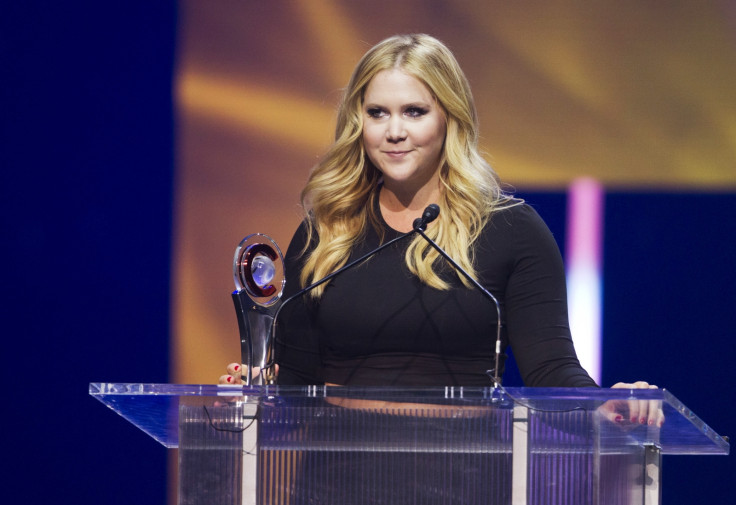 Comedienne Amy Schumer is not appearing in the new Star Wars movies, but the Trainwreck actress managed to recreate her own version of the franchise's most iconic moments in the August issue of GQ.
The actress was photographed on the cover provocatively sucking C-3PO's finger in Princess Leia's famous gold bikini from Return of the Jedi.
Outraged fans branded the photos "lame" and "distasteful".
The magazine's cover accompanied a lewd interview with the comedienne in which many of Star Wars' famous characters were sexualised and another piece titled "How to make her yell like Chewbacca".
Lucasfilm responded to the sexy snaps on Twitter on Thursday (16 July) tweeting, "Lucasfilm and Disney did not authorize, participate in or condone the inappropriate use of our characters in this manner."
Inside the magazine Schumer also appears in the back of a cab with Chewbacca, C-3PO and Yoda, dancing on a stage with high-kicking stormtroopers.
In another risqué photo, a topless Schumer lets down her Princess Leia buns while in bed, while fiddling with R2-D2's knob and smoking a cigarette with C-3PO.
Famed photographer Mark Seliger captured the trio.
Schumer has been praised for speaking out about sexism and the objectification of women in Hollywood.
In a recent Complex interview she said, "We're all given this male gaze… It's just instilled in us. In every movie, it's still the slow pan from the shoe up the girl's thigh, and we're watching it."
"Because women are depicted that way," the actress told the magazine, society is "not comfortable with the male form. So it's so funny when we see a guy naked, but when a woman's naked, it's like, [moans]."
With her latest film Trainwreck, Schumer said she hopes to remove the stigma of being a sexually active woman.
"I hope that this movie is a little bit of a gateway to tell people, 'Don't judge everyone so harshly,'" the actress said.
Despite the many other fans have continued to support the star online, including a smitten Luke Skywalker himself, suggesting she should be cast in the next Star Wars film.
GQ's cover ties in with Star Wars Episode VII: The Force Awakens being the highlights of the recent Comic-Con festival in San Diego. The movie, directed by JJ Abrams, who was responsible for rebooting Star Trek, is will be released in the UK on 18 December.
Schumer's GQ interview won't be released until Monday, although the photos have already been published online.