The MTV Movie Awards 2015 was filled with many awkward moments, emotional tributes and laugh-out-loud skits, thanks to the likes of Zac Efron, Vin Diesel, Channing Tatum and Kevin Hart.
Hosted by Amy Schumer at the Nokia Theatre in Los Angeles on 12 April, the evening saw rom-com The Fault In Our Stars triumph after scooping three awards including best kiss for actors Shailene Woodley and Ansel Elgort.
While Divergent star Woodley was the big winner of the night also taking home the trailblazer award, other celebrities stole the show. IBTimes UK counts down the best moments from the ceremony...
Channing Tatum twerks for Jennifer Lopez
The Magic Mike XXL actor gave the audience a special preview of what's in store from the anticipated sequel when he started twerking for J.Lo. After being presented with the best scared as s**t performance for Boy Next Door.
The American Idol judge wanted more than just her award as she promptly challenged Tatum and his co-stars to show off their sexy moves and what happened next was more than she bargained for.
Zac Efron gropes Dave Franco
The High School Musical actor sent the audience into a frenzy at 2014's awards ceremony when he went topless after winning best shirtless moment. Efron won the same award again this year but much to the disappointment of his admirers, he kept most of his clothes on this time.
Instead, the 27-year-old actor chose to grope the crotch of his Bad Neighbours co-star Dave Franco making for one of the most awkward moments of the night.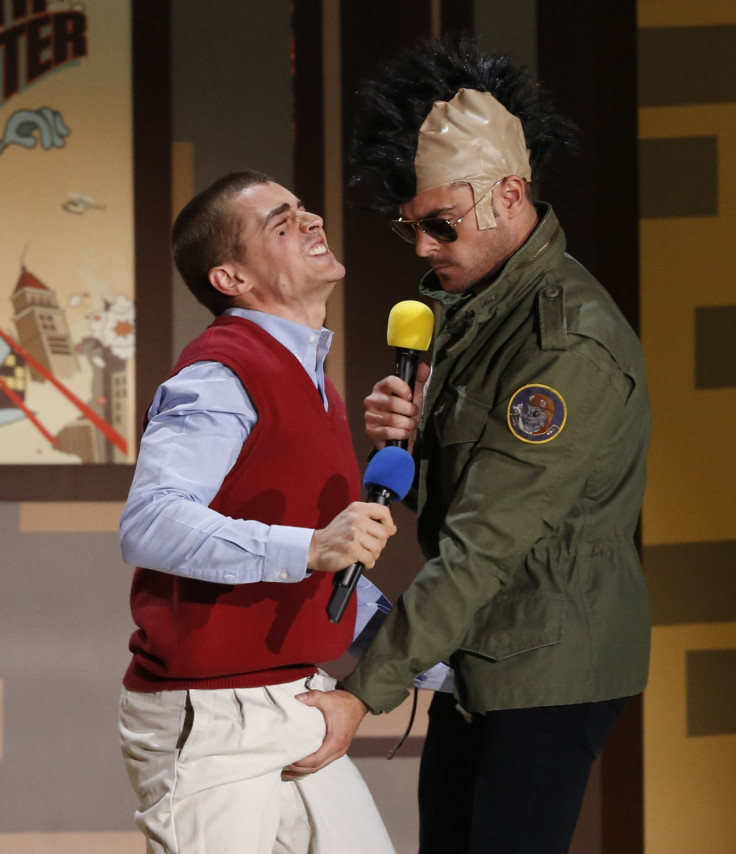 Amy Schumer's opening monologue
The comedian has been applauded for her hosting duties and it is no wonder as her opening monologue was comedy gold. Appealing to the younger audience, Schumer joked that Hillary Clinton was becoming the first woman to join One Direction following Zayn Malik's departure. Of course, it was a reference to Clinton announcing that she was running for president of the United States.
While funny for the most part, one of her jokes fell flat when she compared Rosamund Pike's conniving character in Gone Girl to Latina women. Jennifer Lopez, watching from the audience, was none too pleased.
Robert Downey Jr.'s inspirational speech
Iron Man star RDJ accepted the generational award and delivered what was one of the best speeches of the night. Referencing his troubled past of drug and alcohol abuse, the actor said: "I've grown up, I've struggled, I've failed, I've succeeded, I've partied way too much ... [I] literally clawed my way to the top. Dream big, work hard, keep your nose clean, be of service, and yes, because you can, define your generation."
Forget Hillary Clinton, RDJ should run for president!
Amber Rose and Amy Schumer kiss
While Drake and Madonna were smooching at Coachella nearby, model Amber Rose puckered up to host Schumer while sitting in the audience, much to everyone's shock.
Kevin Hart brings children on stage
The comedian turned down the funny for a serious and emotional acceptance speech which saw his two children, Heaven and Hendrix, join him on stage.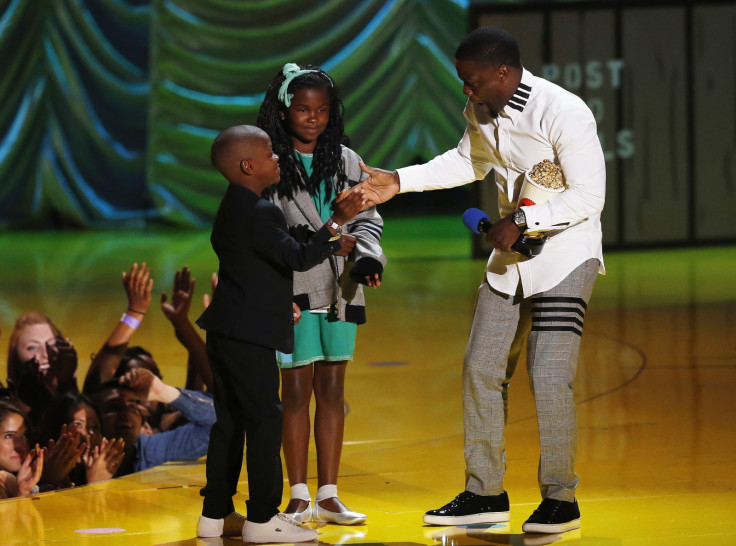 Vin Diesel sings a tribute to Paul Walker
The Furious 7 actor loves a good song but his rendition of See You Again completely moved the audience. Diesel was paying tribute to his late co-star Paul Walker who died in 2013, but there is also another, rather adorable reason behind his impromptu performance.