Ancient Skeletons Discovered in Leicester Still Holding Hands After 700 Years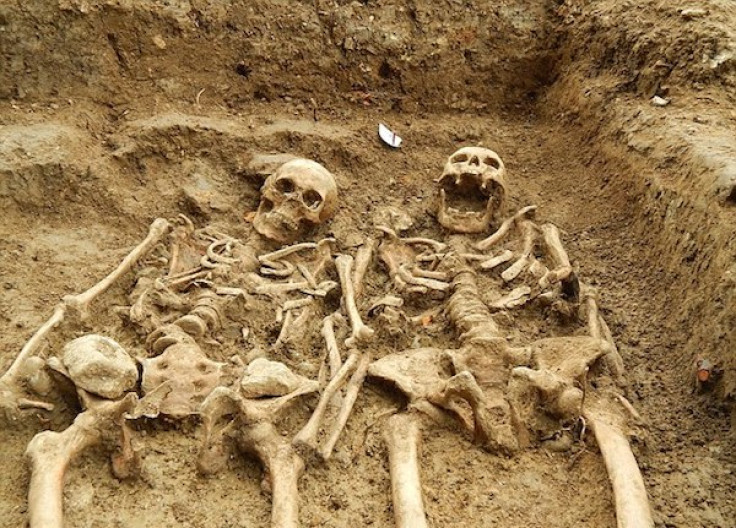 Two ancient skeletons have been discovered in a 'lost' chapel by archaeologists, who say the couple were unearthed holding hands and have been for at least 700 years.
The remains of a man and woman were found with fingers entwined at the Chapel of St Morrell, an ancient site of pilgrimage in Hallaton.
The dig, by Hallaton Fieldwork Group volunteers, has been taking place over four years.
Leading the project is archaeologist Vicky Score from the University of Leicester.
Carbon-dating on the nine skeletons uncovered since the dig began had revealed them to be from the 14th century, she told the Leicester Mercury.
It is believed the pair holding hands are of a similar age. The skeletons have been removed to the university for further investigation.
Score said some of the nine skeletons had stones placed on top of their bodies. "This was a tradition popular in eastern Europe with the idea of keeping the dead down," she said.
"What makes the discovery of the medieval chapel doubly exciting is to find the remains of a previous Roman building underneath it," she said.
"It shows this ground has been used as a special sort of place by people for at least 2,000 years."
The archaeologist was hoping it would eventually fill in the gap between the Roman and medieval periods. "We are missing about 500 years," she said. "We don't know what happened here during that time."
The earliest mention of the chapel in Hallaton was in a will of 1532. The chapel was located after research by local historian John Morrison.
He said: "Antiquarians over the ages have referred to a chapel somewhere in Hallaton."
it's believed that Hallaton was a special site where the sick came to be cured. In 1622, a writer was noting that within living memory "multitudes came to Hallaton chapel to be cured".
Historian William Burton mentions in 1641 that "Halloughton...a place of special holiness so as sick folks did use to flock thither to die."
One skeleton found there, an older male was killed by a sharp implement such as a pole axe to the head, presumably in battle. Another young male was buried in a pit with his legs raised to his chest – possibly the result of a disease.
The oldest embracing couple found so far date back around 3,000 years. Two ancient skeletons were found in each other's arms in a grave in the Turkish province of Diyarbakir.
"The way they were buried signifies that they were lovers," archaeologist Halil Tekin told the Anatolia news agency. "An illness or even a crime of love may have been the cause of their deaths."
© Copyright IBTimes 2023. All rights reserved.