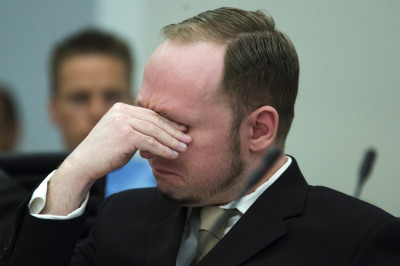 Anders Behring Breivik's only display of emotion on the first day of his trial for killing 77 people was to shed a tear for his own extreme right-wing manifesto.
The eyes of the world were turned on a district courtroom in Oslo as Breivik began to answer for his crimes on 22 July, 2011, which began with a downtown bomb blast in the city and finished with an hour-long massacre on Utoya island during a Labour Party youth camp.
Breivik immediately reinforced his perceived lack of remorse for the killings as soon as he walked into the courtroom, raising his fist in a far-right salute within moments of his handcuffs being removed.
In a distressing day that saw prosecutors take more than an hour listing the names of his victims, as well as the particulars of their deaths, Breivik remained impassive, even allowing himself the odd smile.
However, it was during the airing of his own far-right manifesto video - entitled Knights Templar 2083 - that Breivik showed strong emotion, wiping away tears as he heard his own voice describe the presence of a war on multiculturalism in Europe.
Breivik, who has never denied carrying out the bomb attack in Oslo, which killed eight, and the island rampage that killed 69, but denies any legal culpability. In his first statement to the court he claimed he did not recognise its authority.
"I do not accept your authority in this case," he said. "You get your political mandate from forces that support multiculturalism."
He went on to claim that he carried out the crimes in "self defence", apparently in his perceived position as a commander in the Knights Templar.
Prosecutor Svein Holden gave his opening statement, beginning with a description of Breivik's life leading up to the attack.
He revealed that Breivik was a former telesales worker, who lived in his mother's flat due to a lack of funds. He spent a great deal of time playing fantasy role playing game World of Warcraft, in which he played as a character called Justicar Andersnordic, a character that drew parallels with the Knights Templar character he believed he embodied in reality.
Holden said: "There is one subject, in particular, that stands out. Namely that Breivik claims he became a member of the Knights Templar in London at a meeting in April 2002. In our opinion, no such network exists as the one Breivik has described."
Anders Behring Breivik Trial: As it Happened
Breivik's testimony will start on April 17 and will not be broadcast. It could last for up to five days. The case itself is expected to last until late June.
A majority vote of three of five judges will be required in the trial, with a verdict expected in mid-July. Breivik is charged with terrorism and premeditated murder for a bombing in Oslo's government district, killing eight, and a shooting attack at a political youth camp, killing 69.
If convicted he would face a maximum sentence of 21 years in prison, though sentences can be extended if a criminal is considered a menace to society. If declared insane by the court, he would be committed to psychiatric care. Both sides can appeal the ruling to a higher court.
The trial continues.