Former world number one Andre Agassi would not be surprised if Novak Djokovic ended up winning Wimbledon after the lacklustre year that he has had so far.
The Serbian ace has been low on confidence ever since winning the Qatar Open in January, notably suffering an early second-round exit from the Australian Open as well as losses in the BNP Paribas Open, Monte-Carlo Masters, Madrid Open and the final of the Italian Open.
Djokovic's form prompted a coaching shake-up as he soon partnered with Agassi in late May, hoping that a new coach would change his fortunes ahead of Roland Garros.
While he did reach the quarter-finals of the French Open, the 30-year-old's overall calendar year performances saw him dropping out of the top three in the rankings for the first time since October 2009.
The former world number one decided to break his pre-Wimbledon routine and make his debut in the Aegon International in Eastbourne, comfortably winning the tournament and just his second title of the year.
With Djokovic now on a four-match winning run and seemingly high on confidence ahead of Wimbledon, Agassi has denied that he played a huge role.
"I wouldn't say that at all," he said, as quoted on the Guardian. "Can a guy like this objectively find his way back to the trophy [Wimbledon]? Heck, yeah he could. Of course that could happen."
"That's the plan, that's always the plan – to get better – and the belief in winning has to be yours and yours alone. I think there's enough momentum that could build to give that particular dream, hope or objective a real shot."
Djokovic had earlier cited personal problems for his poor form, even stating in March that tennis was not his number one priority anymore.
"When you see somebody who has accomplished so much and then somehow to our eyes it overnight changes, it doesn't have anything to do with tennis, it has to do with reason, inspiration, finding that thing that fuels you," Agassi added. "Your heart and mind is a bank account, you've got to give it more than you take out of it. When you cross that line you file for bankruptcy."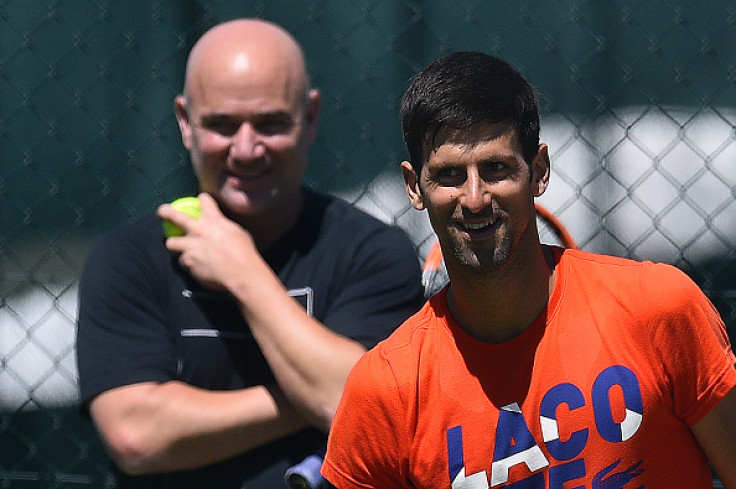 Agassi said he was not so much interested in Djokovic's performances at Wimbledon, instead the focus was on getting the Serbian back on top of his game.
"I'm not interested as much in performance in the short term," he explained. "I'm interested in getting back to everything he knows he is as a tennis player. You've just got to give him the tools to see it. I have a great deal of confidence. I don't worry about finding the solutions."
Djokovic will look to win his fourth Wimbledon title as he takes on Slovakia's Martin Klizan in his opening match on Tuesday (4 July).