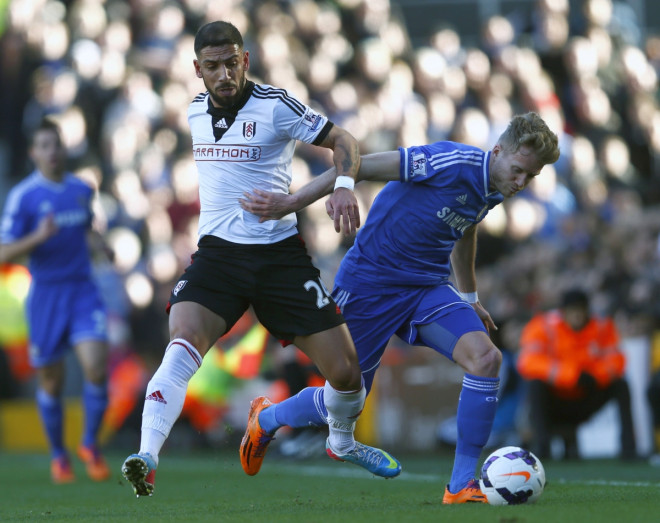 Andre Schurrle's hat-trick for Chelsea against Fulham last weekend was undoubtedly an illustration of the best and most consistent finishing by a Chelsea player this season. When you consider that Chelsea players have scored two other hat-tricks this season that may seem a bold claim. When one was by legendary striker Samuel Eto'o and the other Eden Hazard, the brightest star in the Chelsea firmament, then it may seem like a ludicrous claim.
Jose Mourinho himself, in the post match press conference claimed that Schurrle had "cold blood" in front of goal, meaning clinical. But suggestions that Schurrle could be the answer to Chelsea's impotent strike force were quickly rebutted with "he is not a striker".
Schurrle may not be a striker, but could he be used in this position as the season heads for the final furlong? And, do Chelsea need a player who can sit comfortably in the role of striker? Mourinho has also claimed that the one thing that might hamper Chelsea's assault on the title is a lack of a player who can be clinical in front of goal. A player who can kill games off when the team needs to do so.
Schurrle has had an up-and-down start to his Chelsea career. He has failed to make one of the wide positions his own since, somewhat ironically, he was played as a false number 9 away at Man Utd at the beginning of the season. Hazard is an automatic choice in one of the wide positions, and the energetic and impressive Willian has been preferred to Schurrle to date. He is young and his time will come, and scoring goals will certainly help his cause, and he has scored goals (often spectacular efforts) throughout his career. In Germany he scored goals at a ratio of roughly 1 every three games, and at international level for Germany he has scored 11 goals in 31 appearances. A decent ratio for an average striker and an exceptional one for a wide player.
The fact that Schurrle is an adept finisher will no doubt have caught Mourinho's eye. Earlier in the season Schurrle scored a brace against Stoke and was very close to bagging his first hat-trick for Chelsea in that game. But his best position is out wide, usually on the right. No matter what the supporters and armchair pundits might think, I believe that Jose Mourinho is correct. Schurrle is not the answer to Chelsea's striker problem. He is best suited to doing what he showed so effectively against Fulham last week. Using his pace and movement to attack the space created by the striker's movement, and by Hazard's vision and intelligence, and then clinically finish any opportunities that come his way as a result.
He could well be the answer to Chelsea's goal's problem though - especially being clinical at the time we need it most. Schurrle clearly relishes playing with Eden Hazard: "When I start my run he already knows that I'm running and he has the quality to make the pass to me". Their partnership was used to devastating effect against Fulham, and if more of Chelsea's midfield and attacking players can contribute goals this in turn will take the pressure off Hazard who this season has been Chelsea's main provider of and scorer of goals. And that contribution would be welcome.
Not only that, it is a hallmark of a Jose Mourinho team. There are few examples of an out and out goal scoring star chalking up 20 or more goals a season. More often than not Mourinho teams are just that - a team, a collective, where everyone contributes. No surprise then that when one looks at Chelsea's goal scorers this season you find that the strikers have scored 19 goals, the midfielders 44 and the defenders seven. When your goals come from every position on the pitch then as an attacking threat you are more dangerous and much harder to defend against.
So whilst Schurrle might not be the answer to Chelsea supporters' prayers in terms of an auxiliary striker, he could well make a contribution scoring goals from out wide that will enhance Chelsea's prospects of winning their first Premier League title in four years.
David Chidgey is an avid Chelsea fan and producer of the Chelsea Fancast, which you can follow on YouTube and Twitter.
You can also follow David via his personal Twitter account here.