As you'd expect from a candidate for leader of Britain's Conservative Party, who spent more than 25 years working in the banking sector, Andrea Leadsom, 53, is a big fan of Margaret Thatcher. The MP for South Northamptonshire, Leadsom only entered parliament in 2010, and has since held a handful of junior ministerial positions.
Before becoming an MP Leadsom had a glass ceiling-smashing career at Barclays Bank, where she was appointed to the role of financial institutions director, running the bank's investment arm, in her early 30s. It was there that she had to deal with the fallout from the sudden collapse of Barings Bank in 1995. In 2009, in an article for Conservative Home, she said the experience of seeing Barings fall into insolvency and being sold for £1 convinced her that "honesty and transparency in financial transactions are essential" rather than "endless turgid regulation".
In a major new interview with the Telegraph this morning, she admits that her twin comforts are her family and her religion. A committed Christian, Leadsom is happily married to Ben Leadsom, with whom she has two sons and a daughter. She said: "When in doubt, cook a Sunday roast, get the family around you and you'll feel fine afterwards."
She's also a member of a cross-party Christian bible-study group at parliament, and admits she prays "a lot" for guidance and support. She said: "I am a very committed Christian. I think my values and everything I do is driven by that. It's very important to me. I actually study the Bible in parliament with a group of colleagues and I do go to church, but I am not a regular."
Currently the energy minister, Leadsom has also been the economic secretary to the Treasury, due to her banking experience. Crucially, she backed the Vote Leave campaign during last month's EU membership referendum, and insists that she would pull the trigger on Article 50 – which would start formal proceedings for Britain to quit the EU – as soon as possible.
"If I was prime minister, there would be absolutely zero risk that Brexit wouldn't happen," she said. In fact, she'd want to kick things off as early as the spring.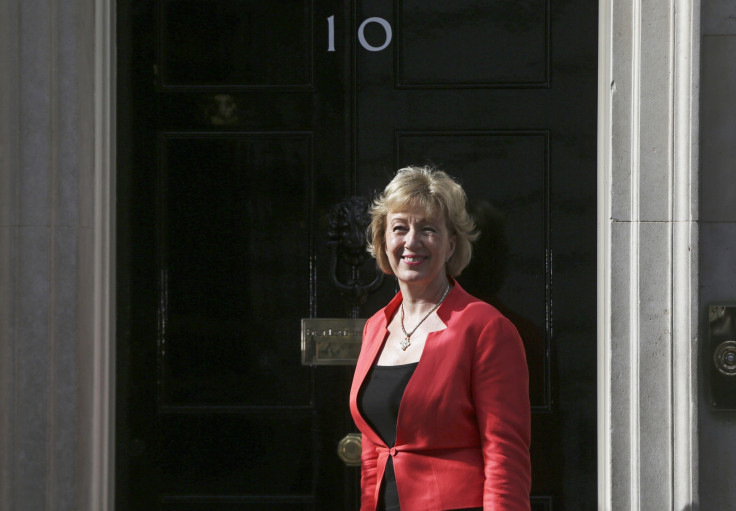 "That would be the ideal time-frame. I am looking at exactly how that could work right now," she said. "There is no doubt that for certainty and to get the most of the opportunity that we have, we need to get on with it."
Despite being the most pro-Leave candidate, a recording of Leadsom describing an EU exit as an economic "disaster" in 2013 has emerged.
If she is made Conservative leader, the comparisons to Thatcher will be inevitable, as she would become Britain's second female prime minister. According to Leadsom, who welcomes the comparison, saying that Thatcher "she was real leadership" combining toughness and personal warmth.
"As a person, she was always kind and courteous and as a leader she was steely and determined. I think that's an ideal combination – and I do like to think that's where I am," she said.