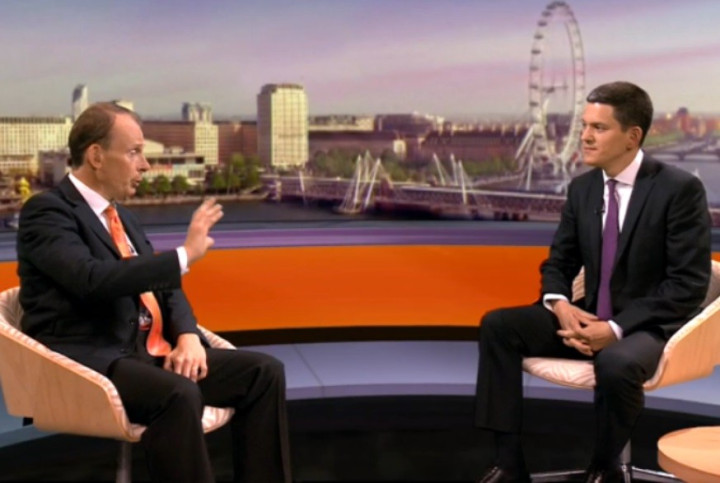 The BBC presenter Andrew Marr returned to conduct his first political interview since suffering a stroke six months ago, appearing on his Sunday morning TV show for a farewell interview with Labour's departing David Miliband, the former Foreign Secretary.
Miliband is quitting politics to take up a role as president of the International Rescue Committee in New York. But while a relaxed-looking Marr looked glad to be back, Miliband could be forgiven if he's relieved to be leaving these shores.
Guarding his restraint, Marr managed to run rings around his opponent in a bravura performance that must have reminded his audience what they'd been missing.
Dispensing with pleasantries, the veteran broadcaster got down to business from the outset, asking Miliband how long he planned to spend in his post.
"David Miliband, it's been a long time since we've talked together and I suspect it will be a long time before we talk like this again, because this is the moment when you leave British politics and you move to the US," said Marr. "So my question is this: for how long?"
Miliband acknowledged Marr's return from illness, telling him: "I think it's nice to be on this set because I know you've been to hell and back, and although viewers will be pleased to see me, maybe, some of them will be even more pleased to see you and I certainly join them in that pleasure."
Miliband stood down as Labour MP for South Shields in April last year to take up the position at the IRC, a charity set up by Albert Einstein in the 1930s to help refugees fleeing the Nazis.
But Marr has lost none of his trademark chutzpah, and rejoined: "Thank you for that. Your new organisation the IRC won't be rescuing me, but you rescue refugees around the world."
The host then led Miliband on a merry dance in which he succeeded, while remaining unfailingly polite, in puncturing the former Labour wunderkind's air of earnestness.
Observing of Miliband's reputation as intellect of the Blairite left, Marr told him "The IRC was set up by Einstein. You were always called Brains."
"Not in that league," Miliband managed, modestly.
The camera tactfully stayed off the departing politician as Marr alluded to the TV puppet show of the 1960s. "It's called International Rescue - the Thunderbirds jokes are inevitable," Marr added. "And you've heard them all before."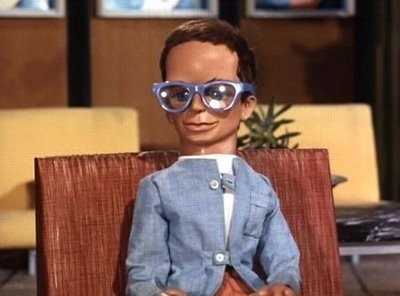 Fraser Nelson, editor of the Spectator magazine, commented: "Andrew Marr was back on the Marr show this morning, doing a great public service by reminding Britain why we're not missing David Miliband.
"The ex-Blair adviser formerly nicknamed 'Brains' is off to join International Rescue next week - and even Marr couldn't resist a Thunderbirds reference.
"Miliband wasn't amused. He'd come to give a message, not least of it was: I'm not ruling out a comeback. I rather doubt that Labour members will be begging him to."
Marr hopes to be back in his role as full-time host of the show by the summer.