After the confirmations for Education Secretary Betsy DeVos and Attorney General Jeff Sessions passed with contentious debate and a divided Senate, the selection of Labour Secretary Andrew Puzder is the new battleground for those opposing the Trump administration.
Over three weeks into the new administration and Puzder is yet to have his first confirmation hearing in front of the Senate Health, Education, Labour and Pensions Committee, now scheduled for Thursday 16 February. NBC reported that this delay was due to Puzder taking his time submitting ethics and financial paperwork to the committee.
This particular senate committee has gained a certain notoriety in the current administration's confirmation processes with clips of firebrand Democrats like Bernie Sanders, Elizabeth Warren and Al Franken not holding back on cabinet nominees in scenes that have gone viral after hearings.
A CNN report on Monday ( 13 February) said that four Republican Senators had told their party leadership that they were withholding support for Puzder, enough to see attempts to confirm him scuppered.
Spokespeople for three of the senators told IBTimes UK that they were still reviewing information and waiting for the hearing before making a decision on confirmation.
Senator Murkowski, Republican of Alaska and Senator Isakson of Georgia were both said to be awaiting the hearing before making their decision while Senator Collins of Maine said in a statement: "I have not reached a decision. I almost always wait until there's a hearing, unless I know the individual well. I've had two conversations with Mr Puzder. I think there are outstanding questions that I'm sure will be delved into at his hearing."
Senator Tim Scott of South Carolina, also named in the CNN report, did not respond to request for comment by the time of publication.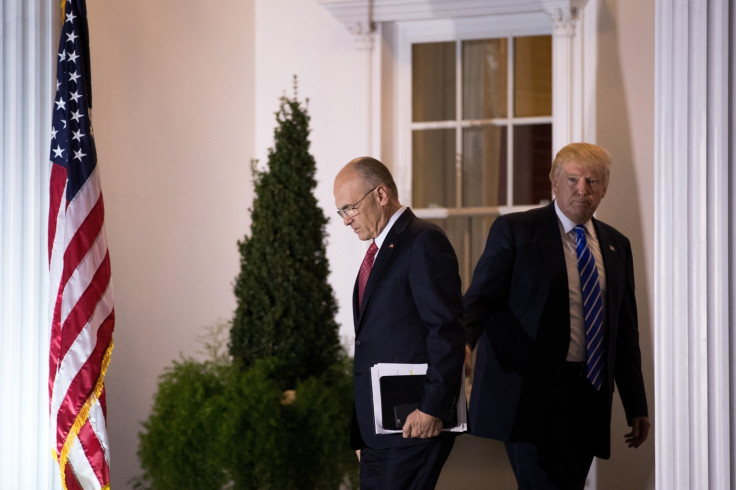 A number of issues are set to come up at Puzder's confirmation - not least revelations that he employed an illegal immigrant and previous comments made by the fast-food CEO against the minimum wage. On top of that, tape provided by the Oprah Winfrey Network of a decades-old episode that featured Puzder's ex-wife accusing him of physical abuse is to be shown to senators.
Two of the Republicans named as on-the-fence over Puzder are also the two who reneged on DeVos's confirmation, leaving Vice President Mike Pence, as president of the Senate to cast a tie-breaking vote in DeVos's favour - the first time in history a VP has had to swoop in to save a cabinet nominee from a tied senate.
Increasing pressure on Republicans from grassroots organisations could also help sway favour against Puzder. Indivisible, a group originally started by former congressional staffers who wanted to help people resist the Trump administration, have been encouraging people to organise and turn up at the town halls of Republican candidates to voice their anger.
The group tweeted out a call for people to "put the pressure on high" for the four named senators.
In an email to IBTimes UK, Indivisible said pressure on the four senators was even more critical.
"With Andrew Puzder's nomination, President Trump has sent another clear signal that he has no intention of fulfilling his campaign promise to put workers and retirees first—in fact, it would be the opposite.
"Puzder has disparaged his own workers and holds positions that would protect profits for CEOs and big corporations while making it harder for families to make ends meet, let alone get ahead. We're counting on Indivisible teams from around the country to show up and tell their Senators as much. Firmly."
For opponents of Puzder and Trump's administration in general, senators on the fence is a hopeful sign - a possibility at turning some over and causing a major upset for the White House.
Only nine cabinet picks have been rejected in the senate's history and if more than two Republican senators come out against Puzder, even a vice-presidential Trump card wouldn't be able to stop him becoming the tenth.