Ex-Goldman Sachs banker Steve Mnuchin confirmed as Trump's Treasury Secretary
Trump promised to 'drain the swamp' only to fill his inner circle with Wall Street bankers.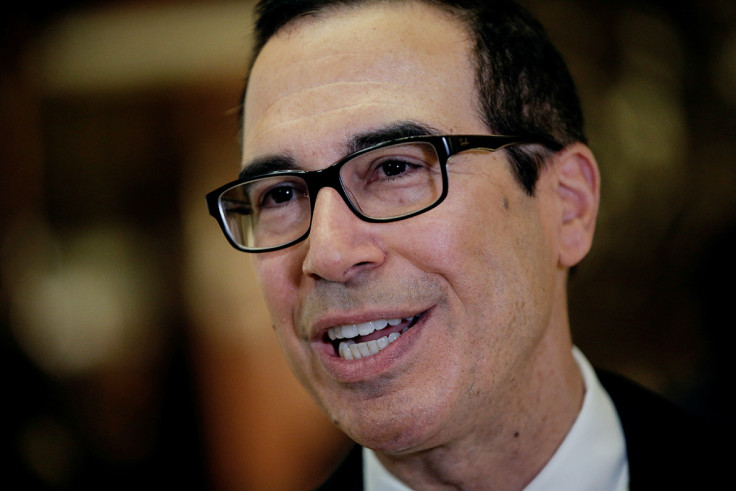 Steve Mnuchin has been confirmed as President Donald Trump's pick as Treasury Secretary. The US Senate confirmed the appointment by 53 votes to 47 on Monday (13 February).
Trump had promised to "drain the swamp" and rid the White House of Wall Street's influence prior to his election. However his nomination of Mnuchin could be seen as at odds with that promise.
Mnuchin spent 17 years at Goldman Sachs before accumulating enough wealth to purchase his own bank, IndyMac, which was later renamed OneWest Bank.
His nomination makes him one of no less than six members within Trump's cabinet and close advisers to have worked at Goldman Sachs. Others include the bank's former second-in-command Gary Cohn, Anthony Scaramucci and Steve Bannon.
Democrats at the hearing used the opportunity to criticise Trump and raise the broken campaign promise.
"I am extremely disappointed in Senate Republicans for clearing the way for yet another Wall Street insider to take a critical leadership position in the administration," representative Maxine Waters, of California, told USA Today.
"Trump and his fellow Republicans in Congress are determined to pack the Administration with bankers and billionaires, ensuring that special interests are represented, not the needs of hardworking Americans."
At the Senate Finance Committee, where Mnuchin was confirmed, the 54-year-old was scrutinised about his time at Goldman and OneWest, where he was accused of running an aggressive foreclosure policy labelled a "foreclosure machine".
He was also quizzed about his time in Hollywood where he founded RatPac-Dune Entertainment and helped produce movies such as Avatar, American Sniper and The Lego Movie.
Republicans and Trump supporters shrugged off Mnuchin's ties to big business and said that his experience as a businessman will be beneficial to running America's economy.
As Treasury Secretary, Mnuchin will oversee over 85,000 employees and run the department that manages the federal tax system, pays the nation's bills and produces currency and stamps.
Prior to his confirmation, Mnuchin said one of his big priorities will be tax reform, particularly the Dodd-Frank Act that was introduced in response to the 2008 financial crisis.
Mnuchin donated over $400,000 (£319,000) to Trump and the Republican Party in 2016. Prior to that, he funded campaigns for Al Gore, Hillary Clinton, John Kerry, Barack Obama, and Mitt Romney.
© Copyright IBTimes 2023. All rights reserved.