Former England captain Michael Vaughan has rubbished talk that the poor recent form of skipper Andrew Strauss should lead to him being dropped for next month's test series against the West Indies.
The 35-year-old has gone 17 months without a test century, the last coming against Australia during a victorious Ashes series in 2010/11, while Strauss averaged just 26 with the bat in 2011.
A tough winter series against Pakistan and Sri Lanka has been compounded by his duck against Durham on his County Championship return for Middlessex last week, but former captain Vaughan doesn't believe dropping Strauss is the solution.
"As a captain, it's ridiculous to talk about Strauss' position," Vaughan told ESPNcricinfo.
"You only get better as a captain: tactically and management wise. I'd be a better captain now than I was when I retired. You're more mature. You've seen more situations. And that's what captaincy is: it's a man-management role.
"What Strauss needs now is a score. He needs a big score. He's playing all right: his feet are going quite nicely and I don't see any technical flaws. But he needs to make the starts count.
"He knows that he needs a big score. One hundred in 50 innings he knows that, if he wasn't captain, he would be under serious threat. But there's more to his position in the side when you're the captain.
"He averages 26, but his average is probably worth in the 40s because of what he brings to the team. If you're just judging someone purely on stats, you forget what they bring to the side. As a captain you bring a lot more to the side than the runs you score on the pitch."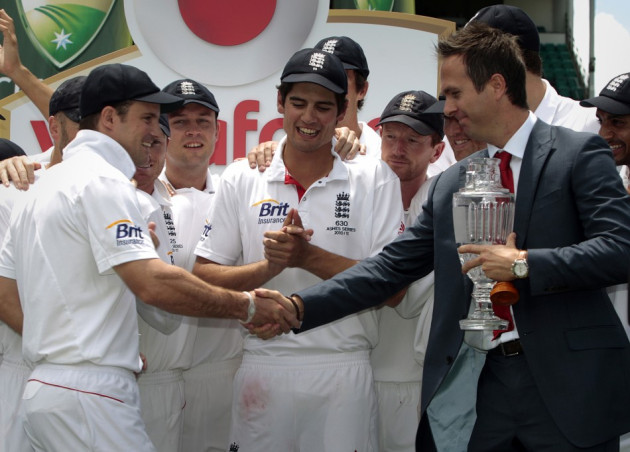 Vaughan sights his own problems during England's tour of New Zealand in 2008, where he averaged just 20, before the return series that same year saw him score 200 runs during the three match series.
The 37-year-old's form sparked back into life with his 18<sup>th test century in the first test at Lord's against The Black Caps and a score of similar stature for Strauss is bound to set him back on his way according to Vaughan.
"But there's no question that, in the series against the West Indies, he needs a big score or that problem will get bigger," he added. "You can't keep going on as an opening batsman - even if the side are winning.
"The same thing happened to me. In 2008 we went to Lord's to play New Zealand. I'd had a stinker in New Zealand and, though there was no talk of the captaincy, there was talk of my form.
"I somehow managed to score a hundred. I don't know how - I played terribly to 60 and edged it everywhere - but he might have to play an innings when it looks very ugly. When you're out of form it's a grind, but he somehow has to get three figures in that end column.
"Strauss will know his returns are not great. And he will know when it's time to move on. But at the moment, the time is not right."
With Strauss having been made available for his county until the start of the international summer schedule, he's likely to resume his battle to regain his form during next week's County Championship match with Worcestershire.